Looking for Spring wax melt inspiration? We have you covered with our latest makes, from gorgeously detailed rabbit wax tablets, to relaxing lavender wax melts. These ideas will get your creative juices flowing, with fragrances that ooze fresh homegrown flowers or sweet sticky honey. Abbey and Hayley have challenged one another to come up with Spring wax melt ideas to show you in their latest Instagram live.
Let's take a closer look…
First up we have Abbey from Makes Scents Candles presenting her beautiful pastel wax melts. How do you package your homemade wax melts? Wax melts look great packaged up in individual bags for customer orders, but Abbey has added her own Spring twist with this packaging. We love the idea of creating a flower bouquet from wax melts by simply pushing them onto skewers and wrapping them up in tissue paper, for an extra special gift. This idea would be a wonderful idea to display wax melts at craft fairs or to package in a takeaway box. Abbey has used pastel dye shades for the flowers and ducks to create a bouquet inspired by Easter, wrapped in elegant tissue paper. The variety of details and shapes compliment one another so well!
Abbey's second creation is this gorgeous wax tablet created with a pastel green dyed wax base, embedded with flowers, dots and rabbits. We love the mix and match of raised shapes, with Spring time colours. The design possibilities are endless with our hanging mould as it's a blank canvas to work with. Hang the creation up once the wax is fully set or cut up the wax to add to a melt warmer to release a gorgeous Spring scent into a room.
Fresh Cut Grass fragrance oil was a great choice for these wax melts as they have light undertones of water lily, field grass and osmanthus. This fragrance has a delightful trace aftertaste of box tree, cypress and peony. Doesn't it match perfectly with these creations?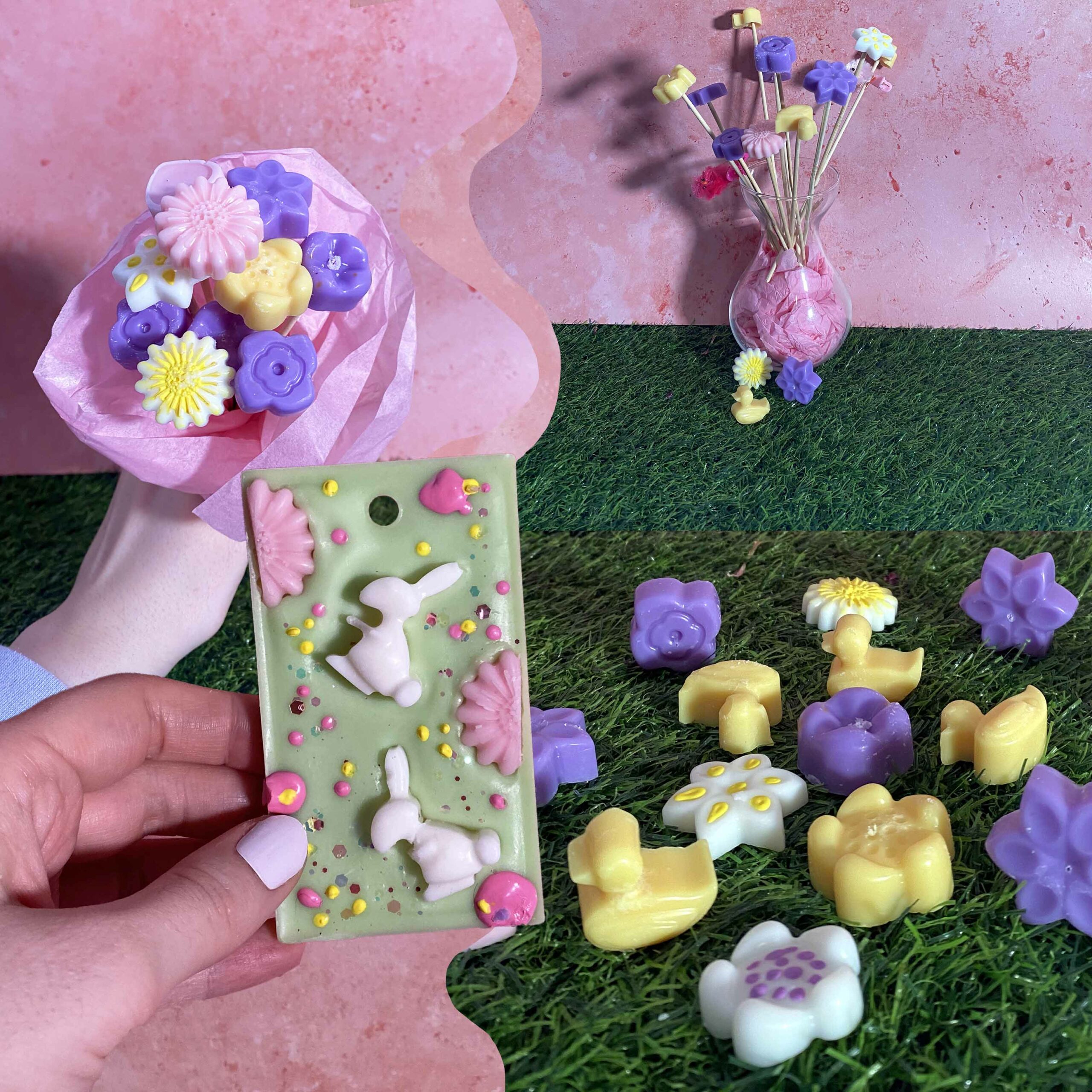 Next up we have Hayley from Cosy Owl and her nature inspired creations with muted pastel tones.
Let's start with the peach hearts, these include a variety of dried flowers to enhance the Premium Sun Drenched Apricot Rose fragrance oil used. This fragrance is the perfect Spring/Summer transition scent with top notes of Apricot and Nectarine Blossom, mids of Rose and Gardenia and deep and sumptuous musky base notes, this is a fragrance that packs a real punch. What's great about our Bekro dye chips is that you can mix and match shades to create your desired colour. For example, Hayley used Light Rose Pink with a pinch of orange dye to create the peach colour. Find our recipe for these wax melts here.
The chocolate box style wax melts (top right) have been created using light brown and cream coloured dyes, which bring the collection together beautifully. These melts would look fabulous stacked in a clear storage jar, ready to add to a warmer when desired. Hayley chose our fresh linen fragrance oil for these melts with light undertones of gardenia, iris root and white flowers. Followed by this is a trace aftertaste of Madagascar vanilla and white musk.
The beehive wax melt is perfect for all the nature lovers out there, especially paired with the wonderfully fresh Honey fragrance oil. Our beehive mould adds exquisite detail to a wax melt with very little effort. Hayley has paired yellow and a small pinch of orange dye to reflect the honey scent. Simply chop the melt up and add to a burner to release this stunning aroma. Honey fragrance oil exudes light undertones of honeyed amber, almond and tonka bean. With an aftertaste of vanilla and creamy sandalwood, perfect for Spring!
Lastly, Hayley has chosen the most tranquil and calming scent…Lavender. This popular essential oil is enhanced by adding dried lavender to the natural wax which creates a beautiful spa collection. Lavender essential oil is balancing with a soothing floral scent and a relieving warm undertone– perfect for a relaxing evening in. Find our recipe for these wax melts here.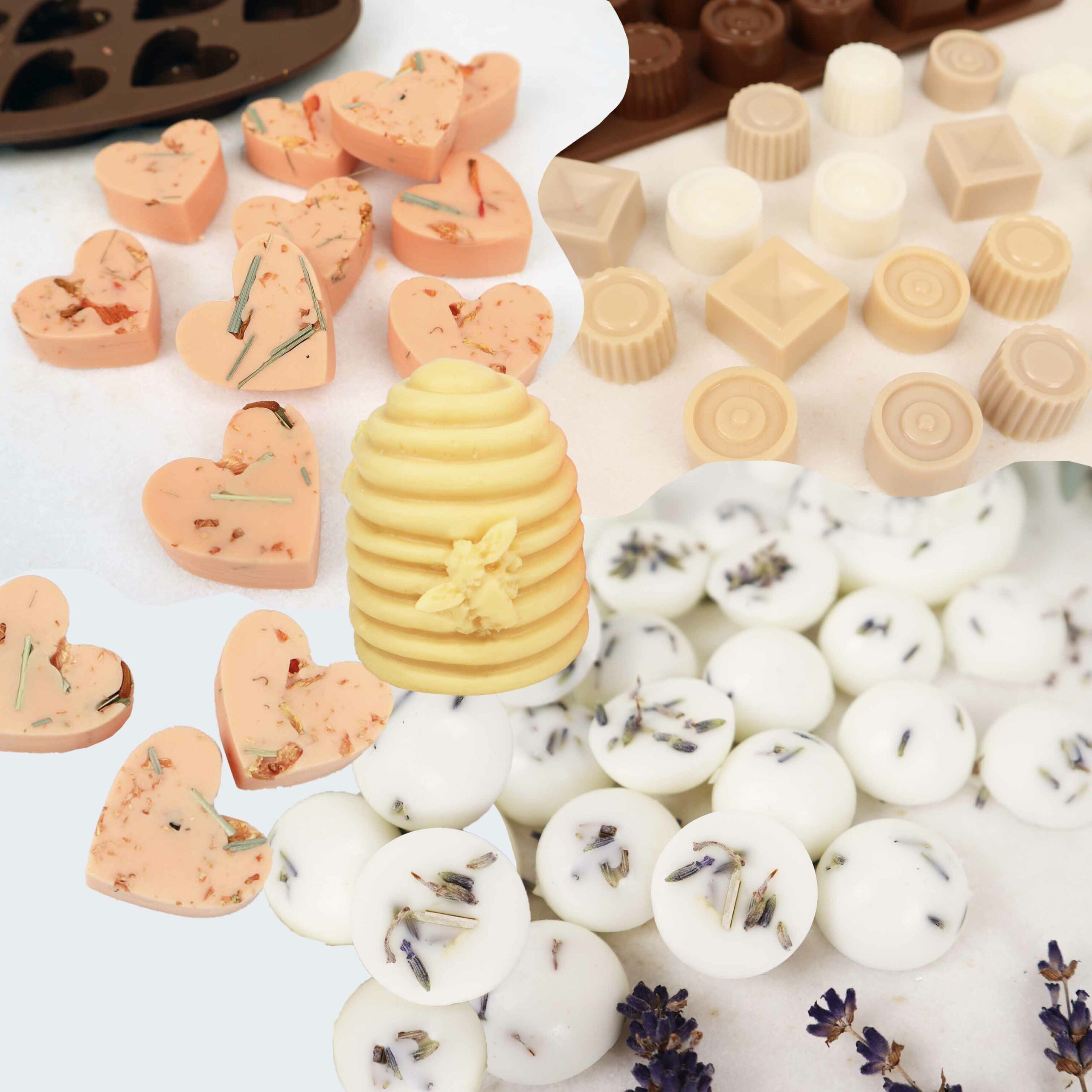 Find out more
Abbey started Makes Scents Candles at the end of June 2020 after being bought a candle making kit for beginners. She then developed the concept of up-cycling as a means to step away from the quick fix self care solution. As someone who's creative with a passion for nature, making plant-based candles was an obvious choice and the wildflower seed idea grew from there.
Follow us on social media and tag us in your wax melt creations. We love to see what you have been making!
YouTube – Find more tutorials and project inspiration 
Find out more on how you could feature in our blog.