Wondering how to dive into candle testing without breaking the bank? We've got you covered! In our recent Instagram Live session, we delved into some fantastic insights on how to level up your testing game. Get ready to create amazing candles while keeping your budget in check. Tune in to catch Abbey, the founder of Makes Scents Candles, and Stacey, our expert Key Accounts Manager from Cosy Owl, as they drop priceless knowledge and tips you won't want to miss!
Why's testing so important?
Candle burn testing involves assessing completed candles for their performance throughout all burning stages. The objective is to verify that the candle burns evenly, emits a regular amount of soot, and maintains user safety. Various elements within the candle, such as wax type, fragrance oil, scent concentration, dye use, wick selection, and container dimensions, collectively influence the burning behaviour. It is crucial to conduct burn tests on each formulation before making them available for sale to ensure quality and safety.
FREE candle burn testing sheet
Check out our FREE candle burn testing sheet here. It includes all the initial information you need to record during testing to analyse. You can then compare candle tests for the best results.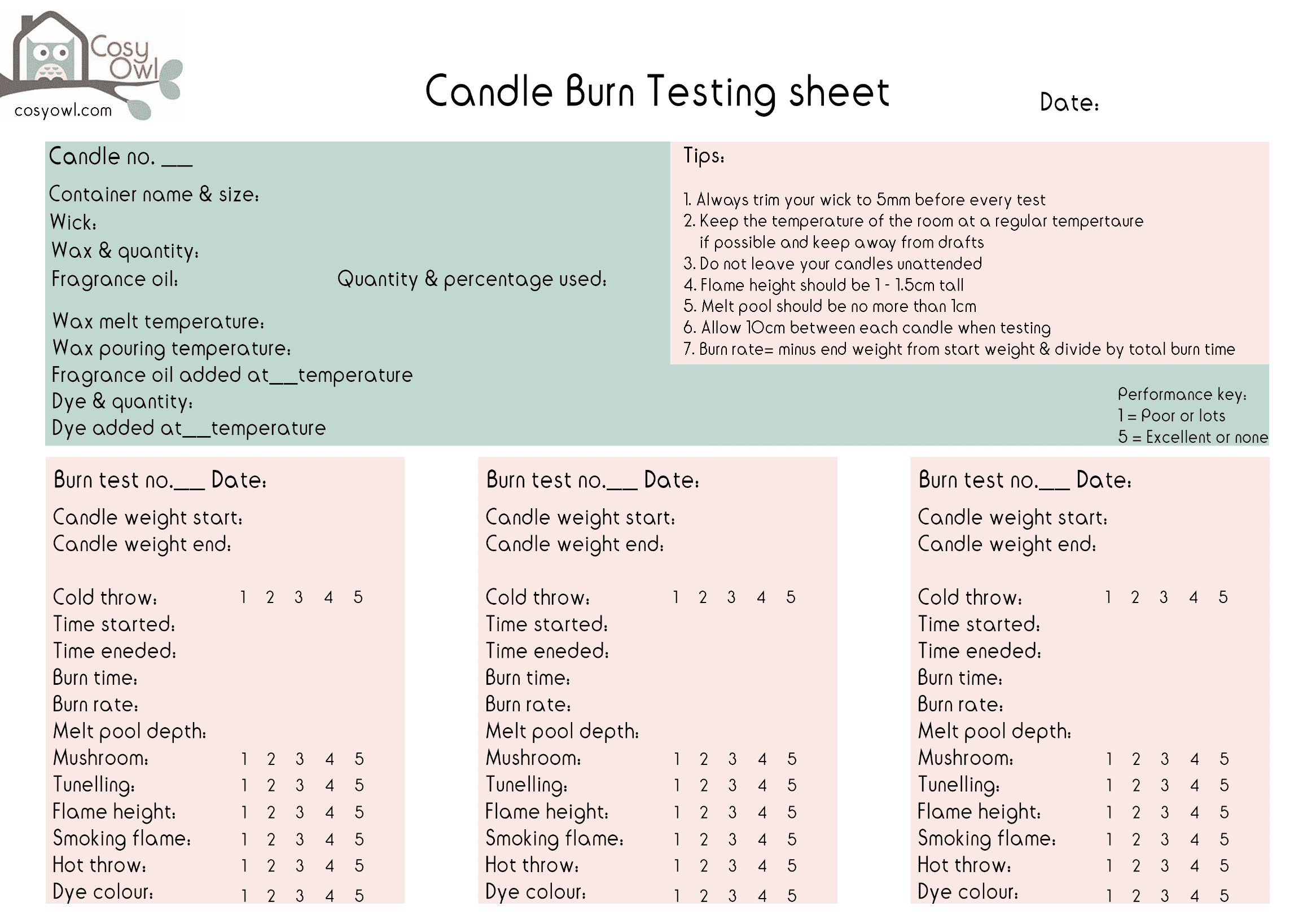 Here's our top testing tips:
1. Select a container for testing that you'll want to use consistently and sell later on.
2. Check out our wick size chart to find out which wicks to start with for the container and wax you're using.
3. Get 2 candles from 1 wick by making half candle. Simply cut the wick in half and reuse for the next candle. This also saves on the amount of wax you are using.
4. Reuse wick trimmings by attaching them to a sustainer.
5. Make sure to clearly mark your containers with the name and measurements of the wax, wick, dye, and fragrance oil you have used.
7.
Take a look at our
troubleshooting blogs
for ways to prevent issues such as tunnelling or frosted candles.
8. Hold off on making any judgments about your wick selection until you've completed at least four burn cycles.
9. Always trim your wick to 5mm before every test.
10. Keep candles away from drafts
11. Do not keep candles unattended while lit.
12. Allow 10cm between each candle while testing.
13. The flame height should be 1- 1.5cm tall
14. The melt pool should be no more than 1cm.
15. If you're not sure which fragrance oil to test, why not start off with making small scented tea light candles? This way you can experience the oil set in a wax and enjoy a sample of the scent. This will allow you to use minimal products before starting the testing process in larger candle containers.
Candle testing on a budget live
Watch our latest 'candle testing on a budget' live where Abbey and Stacey go into detail about their experiences testing candles and how you can save money along the way.
About Makes Scents Candles:
"Makes Scents Candles started at the end of June 2020 after being bought a candle making kit for beginners. I then developed the concept of up-cycling as a means to step away from the quick fix self care solution. As someone who's creative with a passion for nature, making plant-based candles was an obvious choice and the wildflower seed idea grew from there". 
Why not stay connected on our social media? Don't forget to tag us in your creations. We love to see what you have been making and we may reshare your posts!
YouTube – Find more tutorials and project inspiration