Wick to Container Size Chart 
Choosing a wick for your candle is an important process for making sure your candle burns safely and correctly.
Important elements to look out for when testing your wicks:
 Consistent flame size
No mushrooming or blooming
A consistent and moderate candle container temperature
Correct sized wax melt pool
No smoke
A flame that doesn't drown
Here is our starter guide for choosing the correct wick for your chosen container. This is a great starting point for testing your homemade candles with a variety of waxes. Each ingredient and container can slightly affect the wick size you will need, so carrying out tests is important to find the right wick for your creation. Remember to trim your wick following each burn, the best length to trim the wick is around 5mm.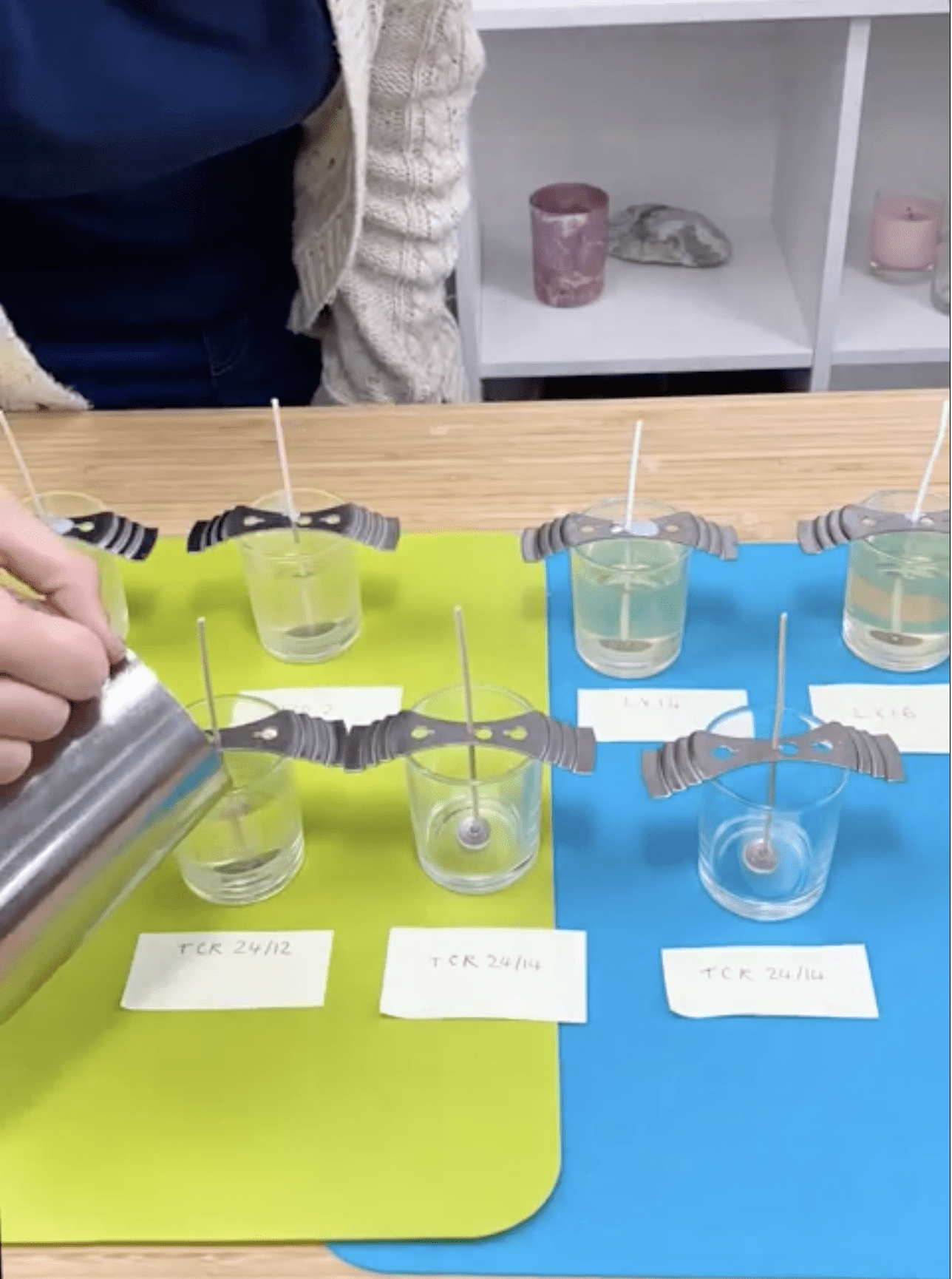 | Wedo ECO Wicks (both wax types) | Wedo LX Wick (Paraffin) | TCR Series Wick (Soy/vegetable wax) |
| --- | --- | --- |
| ECO 0.5 – 50mm | LX 08 – 40mm | TCR 15/8 – <32mm |
| ECO 0.75 – 53mm | LX 10 – 45mm | TCR 18/10 – 32-38mm |
| ECO 1 – 55mm | LX12 – 50mm | TCR 21/12 – 39-50mm |
| ECO 2 – 60mm | LX14 – 55mm | TCR 24/12 – 51-57mm |
| ECO 4/6 – 65mm | LX16 – 65mm | TCR 24/14 – 58-63mm |
| ECO 8/10 – 70mm | LX18 – 75mm | TCR 27/16 – 64-75mm |
| ECO 12 – 75mm | LX20 – 80mm | TCR 30/18 – 76-83mm |
| ECO 14 – 80mm | LX22 – 80+mm | TCR 33/18 – 84-89mm |
| ECO 16 – 80+mm | LX24 – 80+mm | TCR 33/20 – 90-95mm |
| LX26 – 80+mm | TCR 36/20 – 96-108mm | TCR 36/22 – 109-115mm |
Wedo Eco wicks: Wedo Eco wick is a high grade flat, coreless ring-spun cotton and incorporates thin paper filaments and threads interlaced providing a more stable and consistent burn. The self-trimming wick stance minimizes or eliminates carbon deposit formation and greatly reduces afterglow. Wedo wicks combine the highest grade wick materials, state of the art braiding and spooling technology as well as tried, tested and approved chemical treatments to provide the cleanest and safest possible burn in the materials in question. The materials and processes also ensure consistent product quality from start to finish and from batch to batch.
LX wicks: LX series Wedo wicks are designed for containers and free standing candles made primarily of paraffin wax but also performs well in blends containing vegetable wax. In addition, the series gives high performance with normal fragrance loads and color concentrations. The series has its own unique "X" chemical treatment. The coreless wick construction with additional stability threads provides excellent structural strength for use in both molding/pouring and pressing candle manufacturing operations. The wick is already firmly incorporated into a sustainer (metal tab) ready for placing into a heat resistant container. The LX series is made purely of the highest grade ring-spun cotton. This improves overall consistency, helping candle manufacturing operations to run more smoothly and to provide better burning results.
TCR wicks: TCR Wick, a high quality wick appropriate for both vegetable and soy waxes whether with or without dye and/or fragrances. The wick is already firmly incorporated into a sustainer (metal tab) ready for placing into a heat resistant container. TCR wick has paper structured threads that provides a high level of stiffness and is self-trimming, meaning that there is a decreased likelihood of mushrooming and the production of smoke and soot.