With Spring just around the corner and the evenings getting lighter, this is an apt time to start thinking of all things Springtime, giving your home a lovely refresh. With that in mind, a good spring clean and refresh is an excellent way to turn the page on Winter and craft up some new, scented accessories for your home and that includes candles and soaps too.

As seen on ITV's This Morning, our Reed Diffuser Making Kits are a wonderful way to introduce floral, Spring scents to your home and have fun making your very own reed diffuser at the same time! Making your own reed diffuser couldn't be easier and you can follow our simple guide here with Victoria Hartley from Cosy & Country.

Reed Diffusers can be highly effective in providing multiple purposes in the home from freshening up the air with appropriate floral fragrances of choice, to keeping certain pests at bay.
March is also a time when we start to see a resurgence in insect infestations, typically ants are the first to come back out to play! But the biggest pests for many homeowners can be the increase of flies in April and May. Citronella Reed Diffuser Kits is a suitable scent to give off in your home. This fragrance provides a strong and prominent smell associated with lemon, bergamot, eucalyptus and chamomile.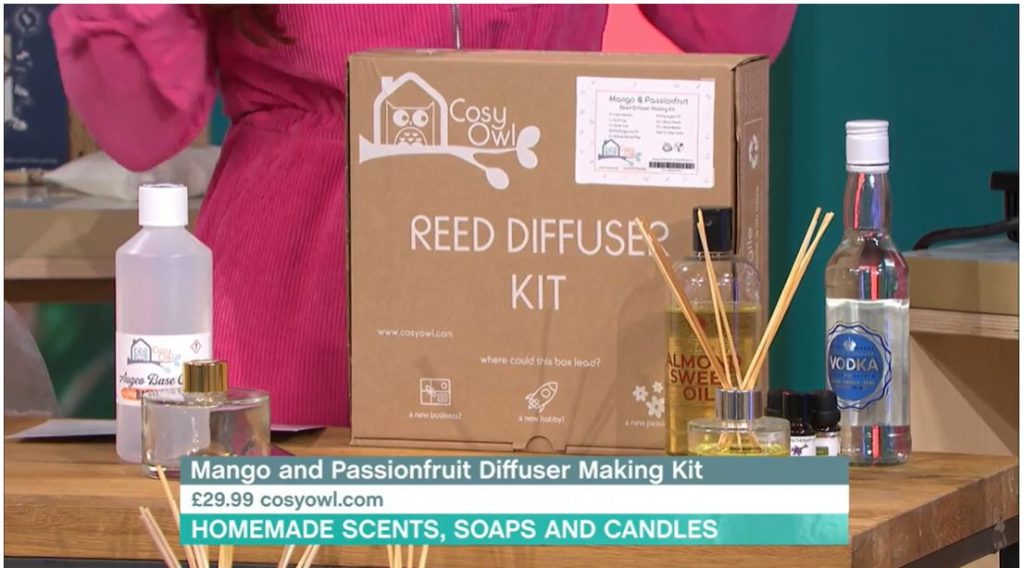 Make your own reed diffuser kit
Making your own reed diffuser kit couldn't be easier and it's also a fantastic, thoughtful gift to give to a loved one who might like to try their hand at a new craft. May that be a gift for Mother's Day or any other occasion, the end product will serve as a sweet-smelling reminder.
We're often asked how long our reed diffusers last and this would really depend on the number of ingredients you use to make them, how many reeds you add and where the diffuser is placed. For example, if it is in a warm environment, the oil may evaporate faster.
If you were to use essential oils and you're unsure on how much to use, it's important to note that the levels of essential oils used in products differ greatly from fragrance oils. Our guidelines are 3% for candles, 25% in a base oil for reed diffusers, 3% in soap and 2% when used in conjunction with carrier oils.
Subscribe to our YouTube channel to learn how to make your own reed diffuser…