With the Spring season upon us, this means it's nearly time to enjoy all the wonderful fragrances from fresh and floral to fruity and sweet. With so many fragrance oils to choose from, we have made it easy to choose with our 2023 trend edit. These Spring fragrance oils can be paired perfectly with wax or soap for candle, wax melt or soap making products.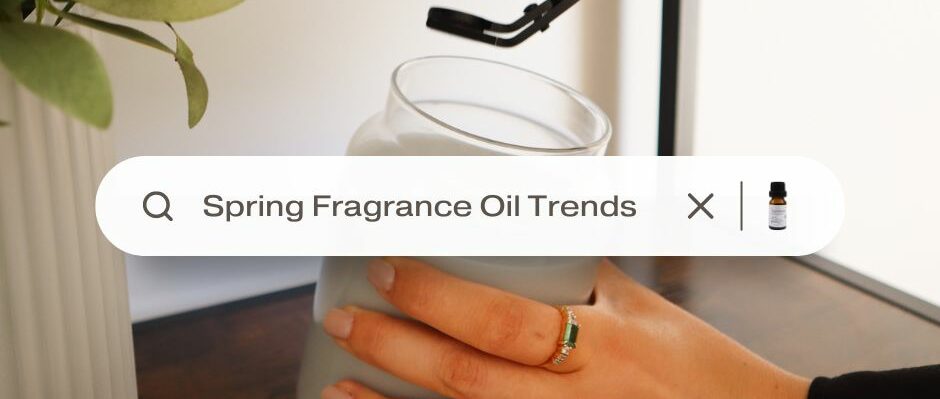 Fabulously Fresh
Spring season comes along with adventurous aromas which evoke memories of costal walks or sipping on refreshing drinks with the warmer weather on its way. Bringing a reminiscent experience to your creations will allow your customers to connect to the scent and enjoy it in the comfort of their home. Here's two of our favourite fresh aromas, perfect for this trend.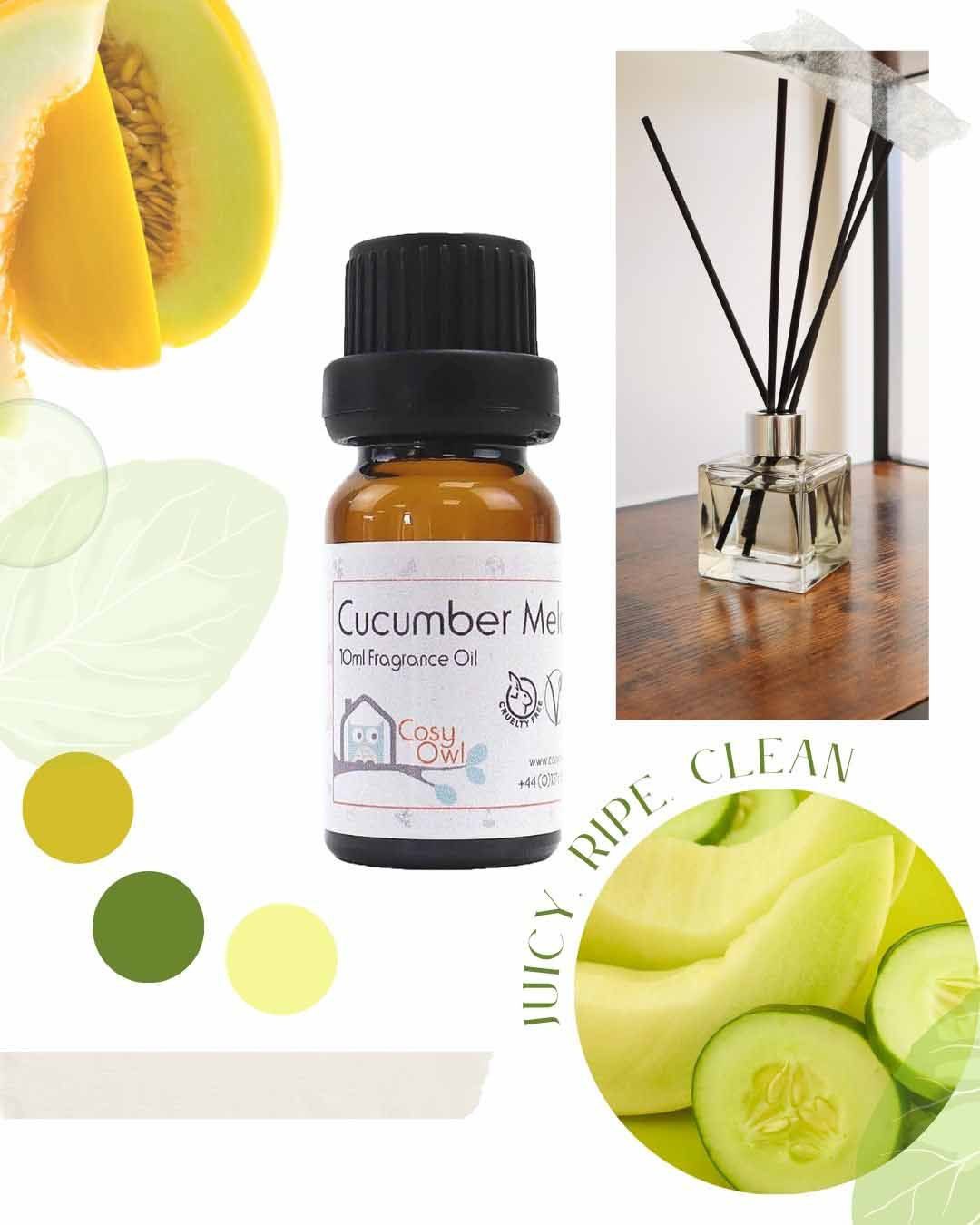 Cucumber Melon fragrance oil is a beautifully refreshing fragrance, with mouth-watering notes of juicy cantaloupe, ripe honeydew melon and crisp cucumber. Refresh and revitalise with a clean and uplifting scent that fills the home. Experience light undertones of freesia, white flower and peach nectar. Incorporated into the formulation for this distinctive fragrance is a delightful trace aftertaste of jasmine, vanilla and light musk.
This fragrance paired with Augeo diffuser oil, creates a wonderfully fresh aroma in a diffuser, allowing the fragrance to spread within the home.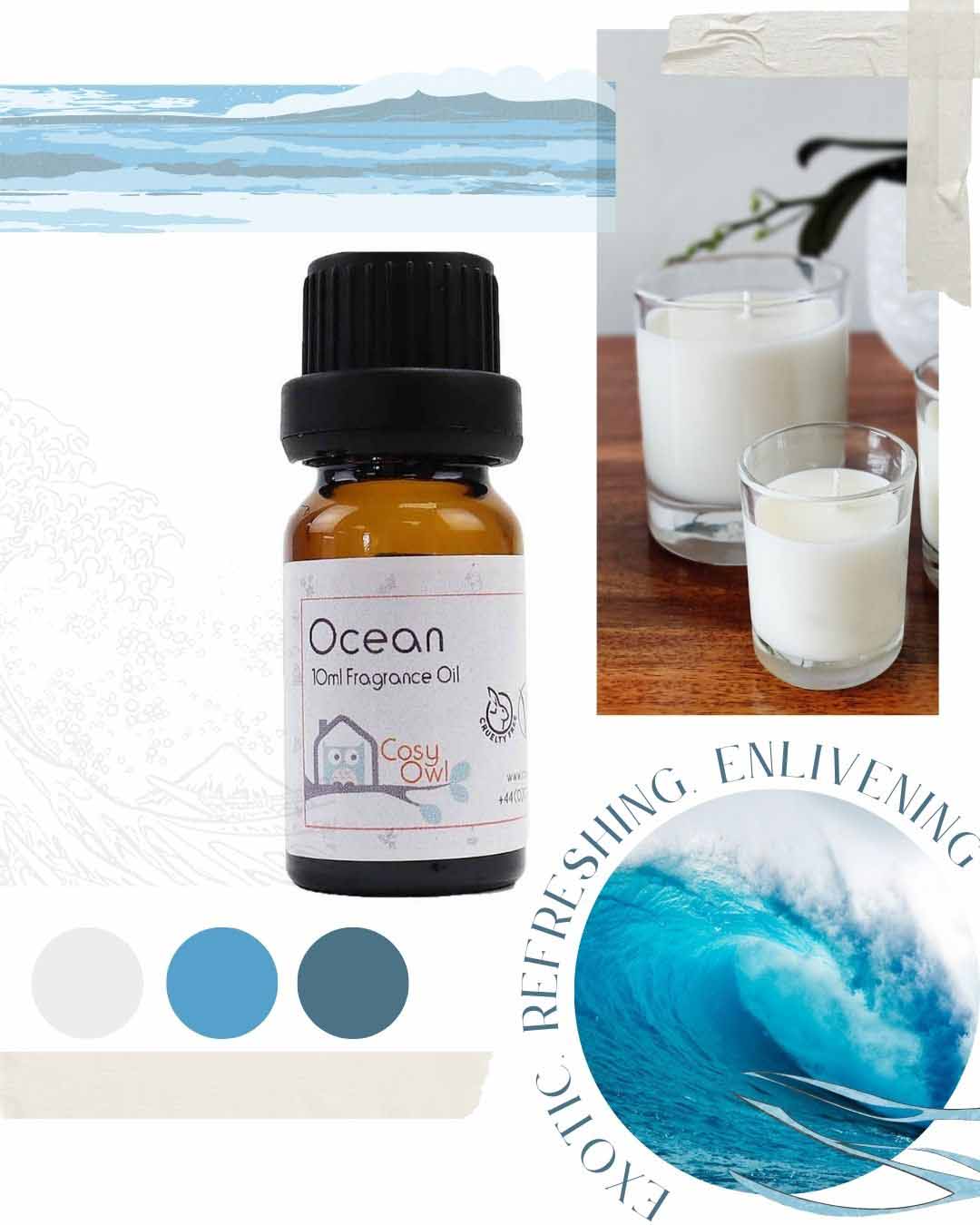 Ocean fragrance oil evokes the familiar aroma of fresh seashore strolls with an ocean breeze of marine notes. The initial notes release aromas of fresh lime, sea salt, zesty lemon and sweet melon. Experience light undertones of calone, water lily, seaweed and cyclamen. Incorporated into the formulation for this distinctive fragrance is a delightful trace aftertaste of cedar, ozone accord and crystal musk.
This fragrance is beautiful paired with wax and blue or cream dye creating a relaxing, seashore aroma in a candle.
Flourishing Florals
Wonderful floral scents are popular year on year. This year the theme of plants, leaves and florals are on trend, bringing the outdoors in. Experience irresistible notes of garden and perfume inspired formulas to enhance your candle, soap or wax melt collection.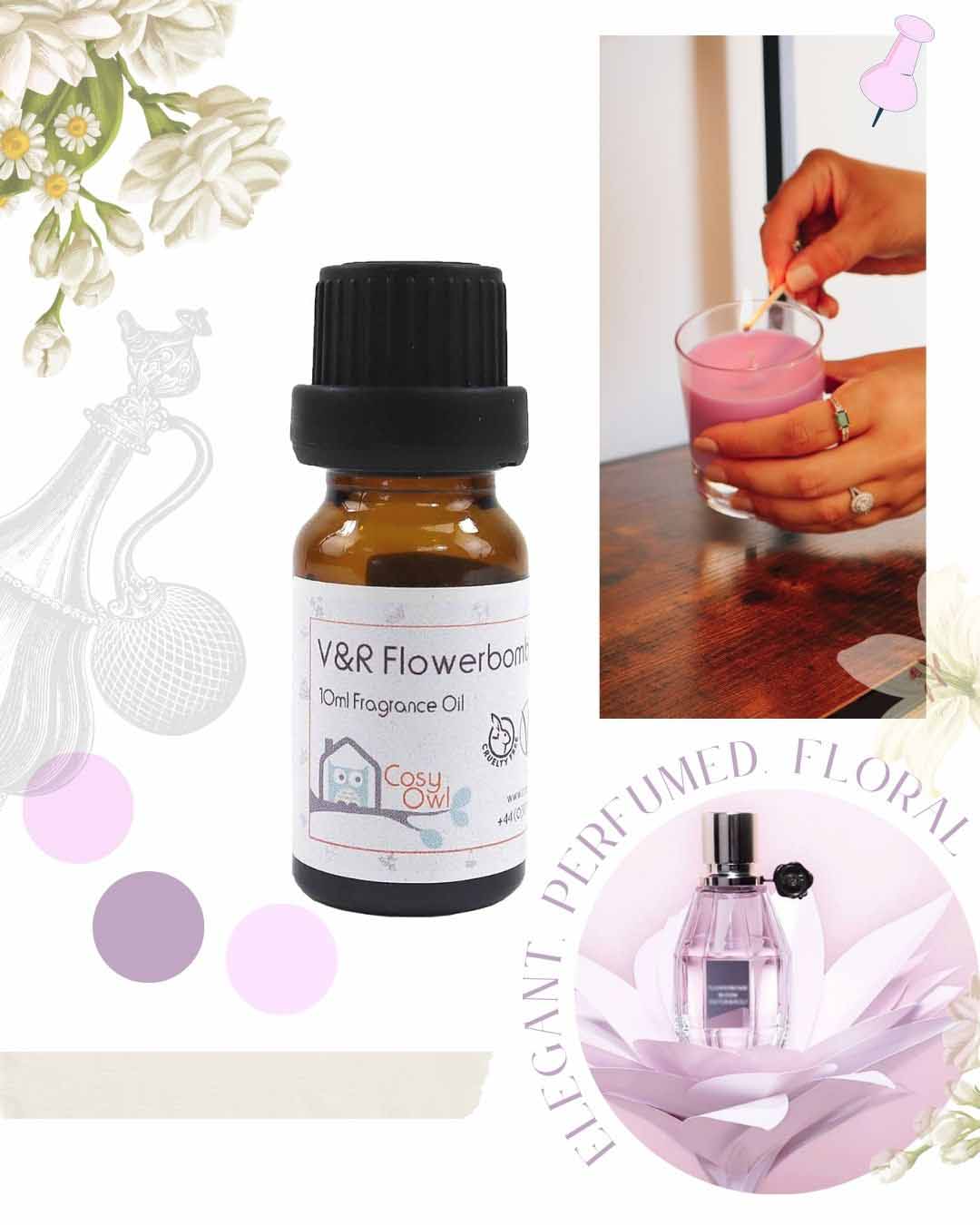 V&R Flowerbomb Type fragrance oil is inspired by the wonderful and intense lady's perfume by Viktor & Rolf. This feminine, floral aroma is elegant and perfumed which exudes a strong and prominent smell associated with sweet orange balm and citrus bergamot. Discover light undertones of lily of the valley, jasmine and muguet. Incorporated into the formulation for this distinctive fragrance is a delightful trace aftertaste of sandalwood, patchouli, musk and crisp amber.
This fragrance paired with a creamy wax such as SoyaLuna and pink and violet dye tones, echoes a gorgeously scented flourishing garden.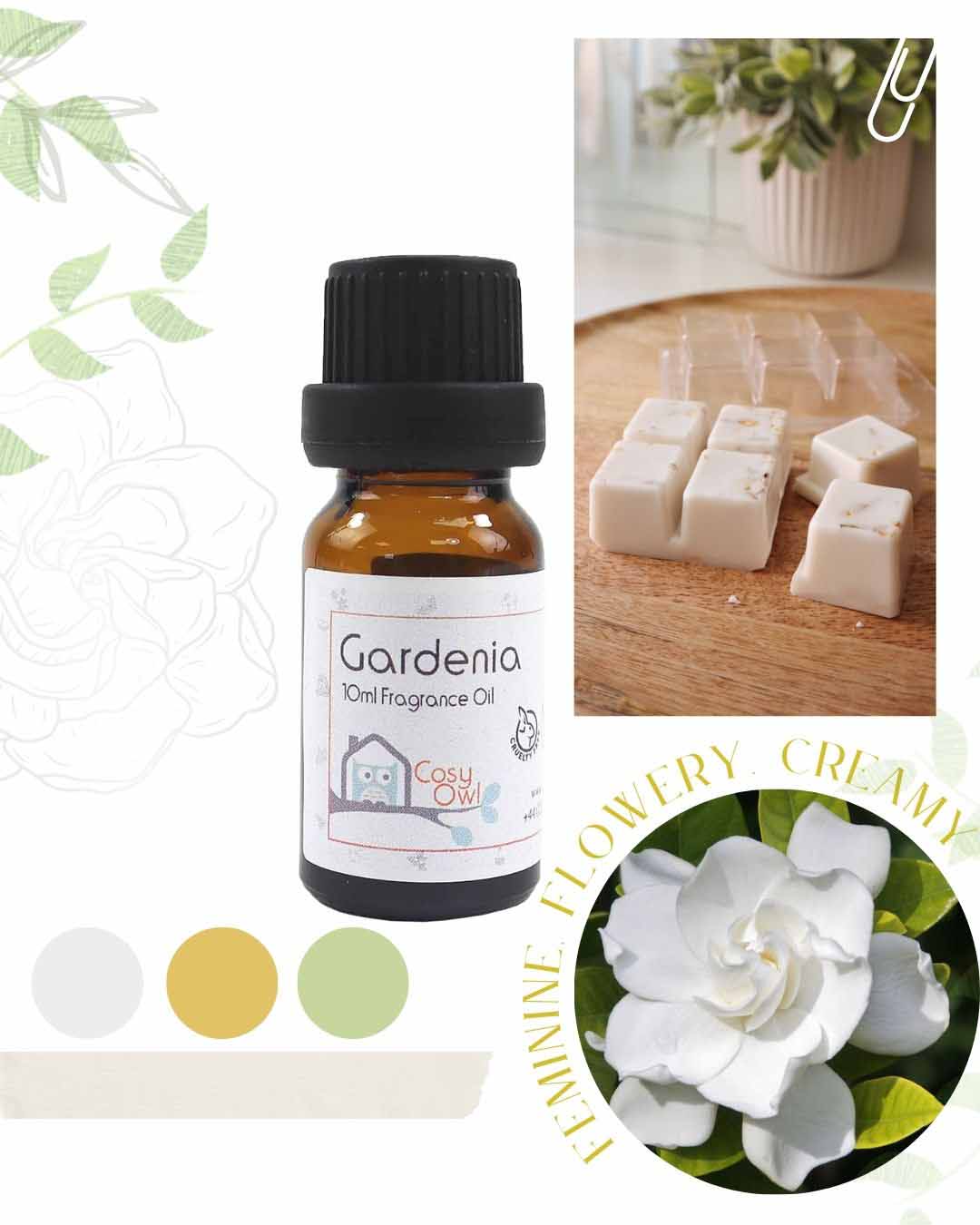 Gardenia fragrance oil releases the wonderful aroma of a flowering plant, native to the tropical and subtropical regions of Africa, Asia, Madagascar and the Pacific Islands. Release initial notes of citrus bergamot, orange blossom and ripe grapefruit. Experience the enhanced aroma with light undertones of magnolia, sweet hyacinth, gardenia and midnight jasmine. Incorporated into the formulation for this distinctive fragrance is a delightful trace aftertaste of nude musk, clove bud, geranium and sandalwood.
This fragrance paired with cream dye and dried flowers, creates beautiful wax melts, ready to be snapped and added to a warmer.
Fantastically Fruity
The fragrance of home grown fruit, with hints of juicy, pears or rhubarb are a winner for the transition from Spring to Summer. These fragrances will leave your creations with a dreamy, fresh aroma that is reminiscent of crisp Spring mornings.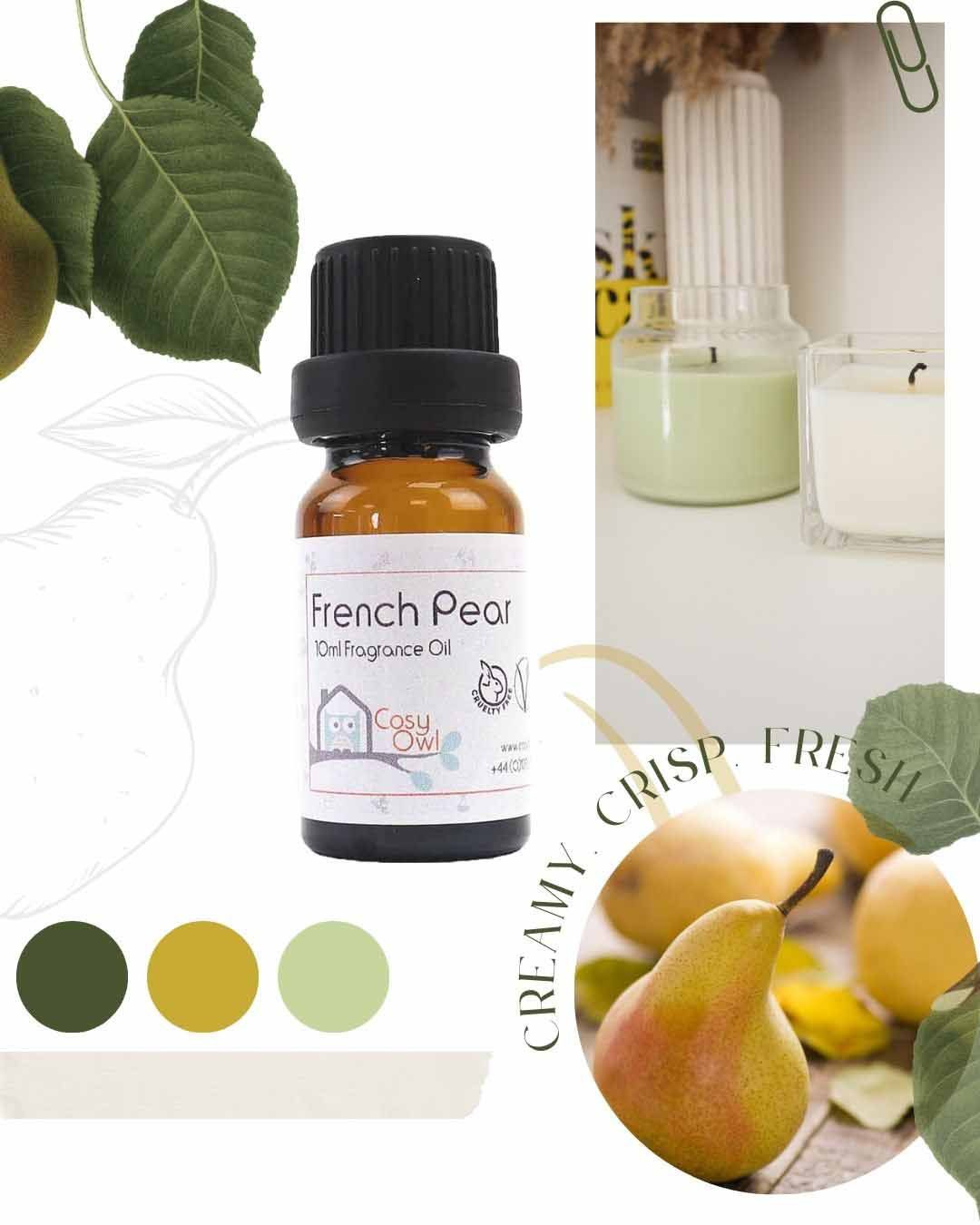 French Pear Fragrance Oil is a homely scent that is crisp and creamy, evoking the aroma of home grown crunchy green apples, white lily and osmanthus. French pear has light undertones of midnight jasmine and juicy baked nashi pear. Incorporated into the formulation is a beautiful trace aftertaste of tonka beans, davana oil, sweet cinnamon, whipped cream, creamy vanilla and thistle honey.
This fragrance paired with light green, olive and yellow dye creates tones that echo the French pear aroma. Added to candles, the scent can be released into a room through a glowing flame.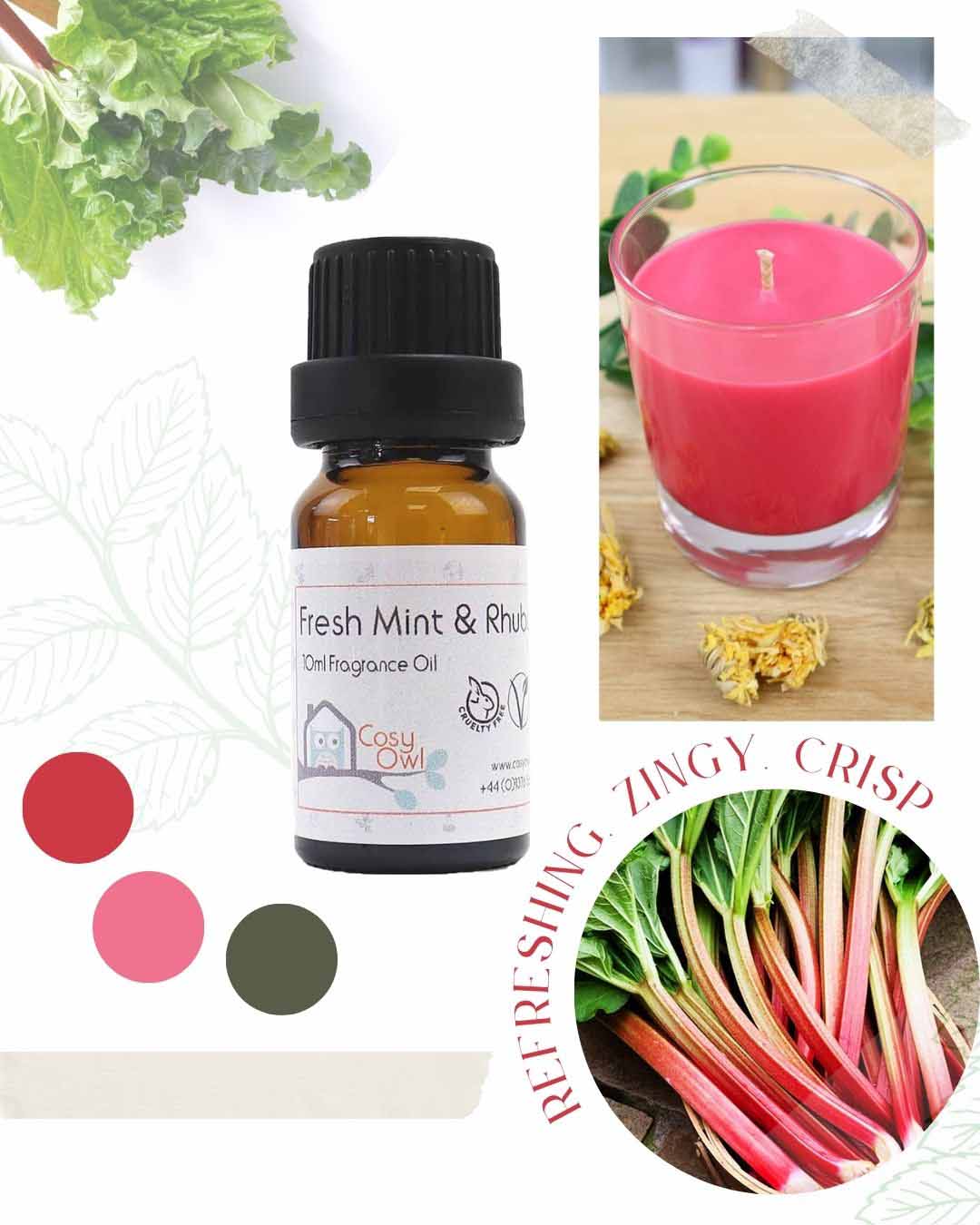 Fresh Mint & Rhubarb Fragrance Oil is zingy, refreshing and a wonderful aroma for a garden-lover with notes of hand picked fresh fruit. This fragrance oil provides an aroma associated with crisp, zingy stewed rhubarb with hints of pear and apple sweetened by caramelised sugar. Feel refreshed with the scent of lush garden mint leaves and a hint of juicy lemon.
This fragrance paired with beautiful red and dark red dye tones creates a zingy and crisp aroma in a candle.
Sweet Treat
A sweet treat cannot be resisted! These sugary sweet fragrance oils contain wonderful notes from creamy sandalwood to white sugar and amber. Both honey and marshmallow have a homely and comforting aroma.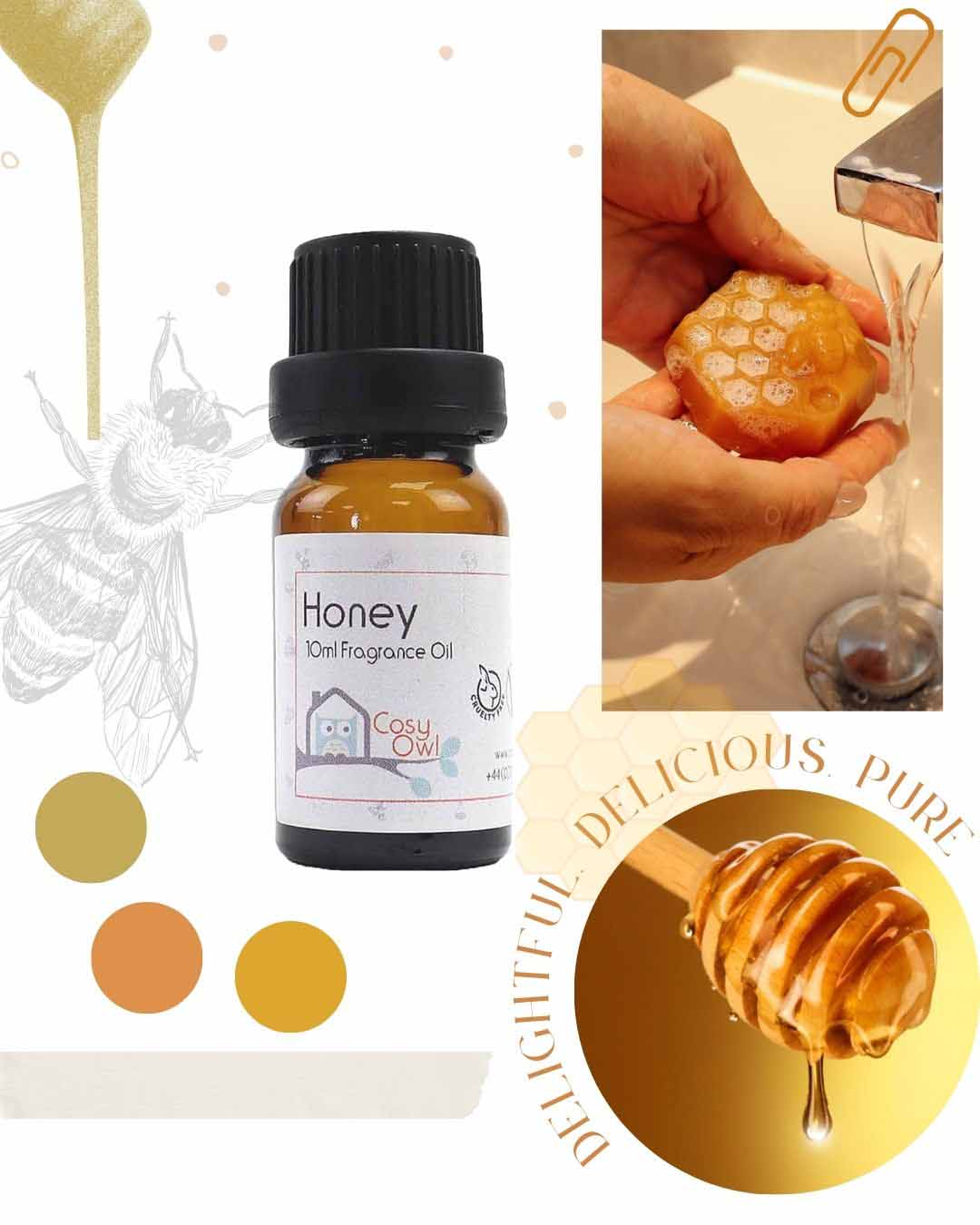 Honey fragrance oil is a beautifully clean, sweet scent with notes of white freesia, bergamot and chamomile. This delicious aroma combines pure light undertones of honeyed amber, almond and tonka bean. The delightful aftertaste exudes vanilla and creamy sandalwood creating a divine aroma that fills the room with joy.
This fragrance paired with our bee soap mould and shimmering gold satin mica powder, creates a sweet, clean soap.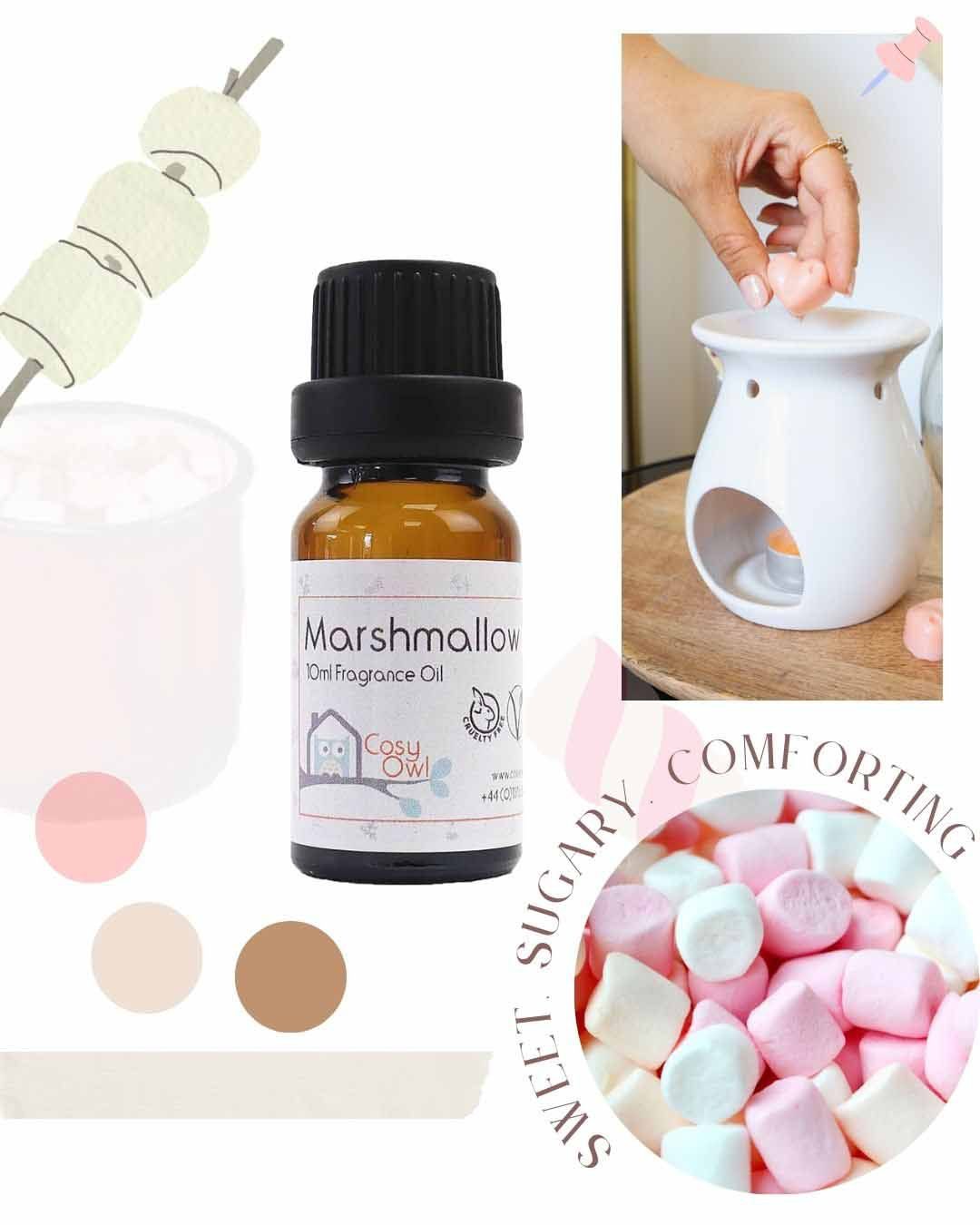 Marshmallow fragrance oil oozes sweet goodness, which is comforting and homely. The initial creamy notes of white sugar is enhanced by light undertones of amber, white mimosa and lactone. The wonderful trace aftertaste extrudes vanilla, musk and heliotrope.
This fragrance paired with light pink, cream and light brown dye tones, creates sweet wax melts, especially with our heart moulds.
Test and try our fragrance oils with a variety of sizes from 10ml to 1 litre and find your favourites!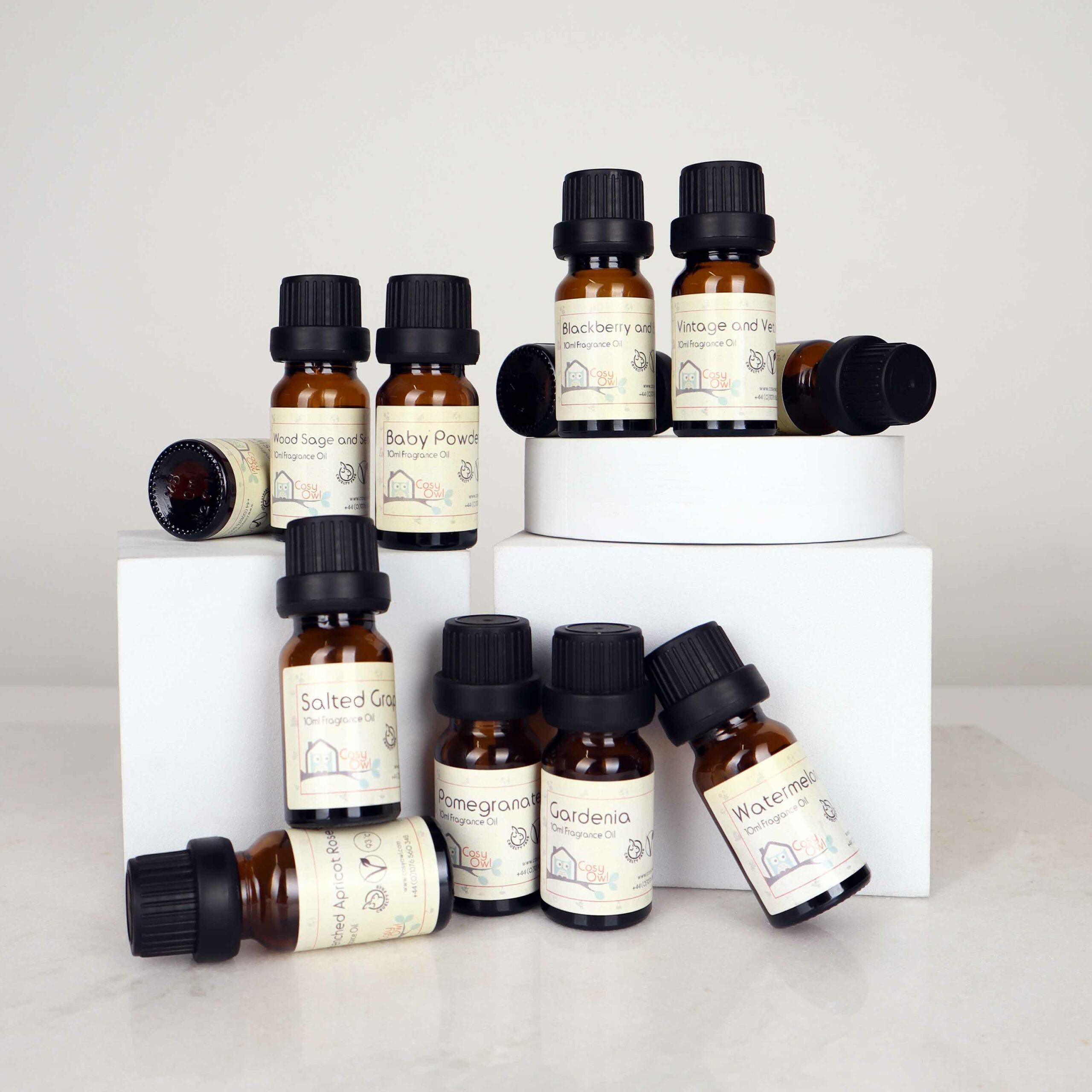 Which fragrance oil scent is your favourite? Explore our full range online.
Follow us on social media and tag us in your creations. We love to see what you have been making!