As the crisp breeze of Autumn/ Winter draws near, it's time to stay ahead of the game and prepare for the enchanting season ahead. Our team have been hard at work, crafting and gathering inspiration, so you can step into the cooler months fully equipped with creativity. From candles that cast a warm glow, to wax melts that fill the air with delightful scents, we have everything you need to embrace the magic of this special time of year.
Autumn brings with it a time of reflection, cosy evenings, and the allure of warm, flickering candle light. In this blog, we're excited to present you with carefully curated mood boards that will evoke the essence of fall in all its glory. The enchanting colour schemes and creative ideas for candle designs, wax melts, and soap creations will surely ignite your inspiration, allowing you to bring the spirit of Autumn into every corner of your home.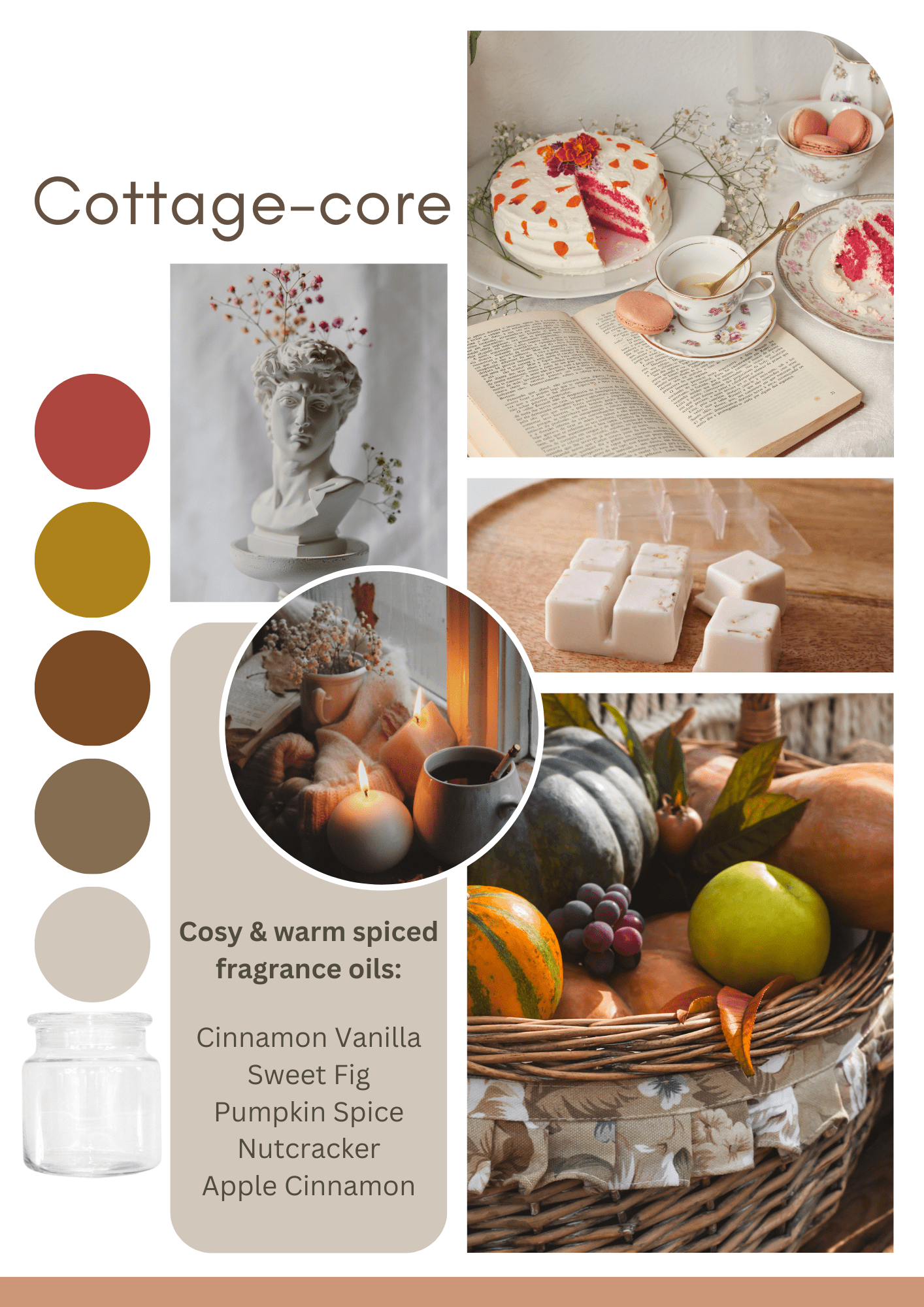 Cottage-core is a design and lifestyle aesthetic that romanticises a simple, rural, and rustic way of living. It draws inspiration from traditional cottages, countryside settings, and pastoral landscapes, evoking a sense of nostalgia for a slower-paced and more nature-oriented lifestyle. We've curated an exquisite selection of fragrance oils that will transport you to a place of pure comfort and warmth. Say hello to Cinnamon Vanilla, Sweet Fig, Pumpkin Spice, Nutcracker, and Apple Cinnamon – each one a captivating symphony of scents that will whisk you away to a world of cosiness and gentle festivity. Imagine a dye colour palette brimming with rich, velvety browns, luscious mustards, and the fiery allure of burnt reds – this is where the magic truly begins.
Step into the enchanting world of cottage-core style effortlessly with our thoughtfully designed molds and jars! For candle makers, our classic jar with lid, bubble ball glass, and 8cl medium cube are the perfect companions for this trend.
Wax melt enthusiasts will delight in our tartlet clam shell, hearts silicone mold, and leaf silicone mold, adding a charming touch to your creations.
And soap makers, we've got you covered too! Our hanging silicone mold, unique pattern mold, and oval mold will help you craft the most beautiful soap bars to embrace the cottage-core aesthetic.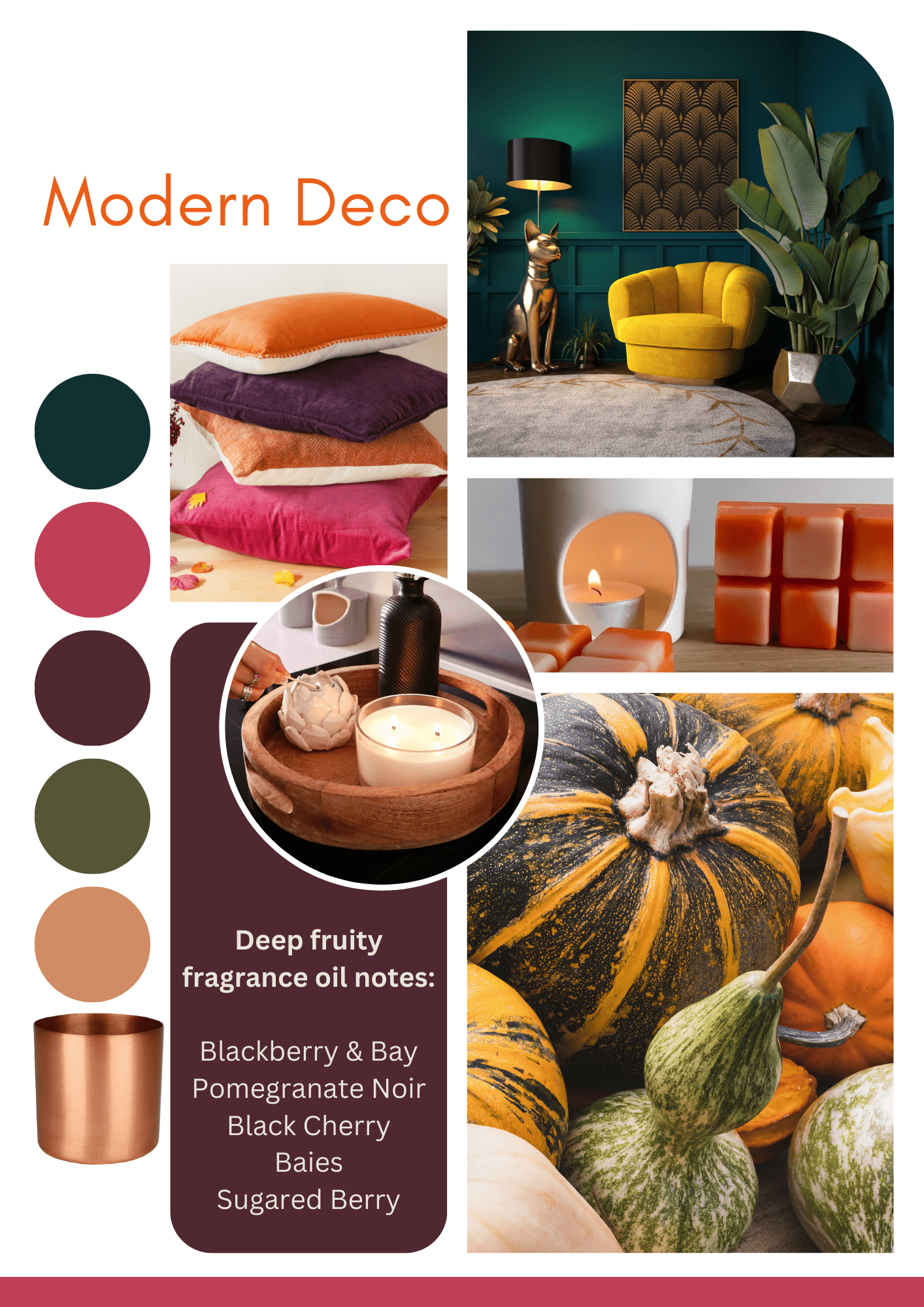 Imagine a design style that artfully blends the glamorous allure of Art Deco's golden era with the fresh energy of modern aesthetics. That's exactly what Modern Deco is all about – a captivating revival and reinterpretation of the classic Art Deco aesthetic, tailored to enchant the senses of today's design enthusiasts.
Indulge your senses in a symphony of deep and fruity fragrances meticulously handpicked to tantalise your taste buds and envelop your space in a captivating aura.
Get ready to fall in love with the bewitching allure of Blackberry and Bay, the mysterious richness of Pomegranate Noir, the luscious sweetness of Black Cherry, the refreshing blend of Baies, and the sweet temptation of Sugared Berry. Each scent is a work of art, carefully crafted to elevate your candle, wax melt or soap making to a whole new level of opulence.
The magic doesn't end there! Our fragrances dance in perfect harmony with a rich and deep dye colour palette, taking your creations to new heights of elegance. Picture vibrant hues of deep blues and greens, velvety purples, and luxurious pink and orange shades, that create a mesmerising contrast against metallic accents, adding a touch of shimmering sophistication. Silver, gold and copper tones compliment the deep tones which can be added in the form of mica powder for wax melts or a lid for candle makers,
Candle makers, get ready to create with our stunning metallic candle tin range! These eye-catching tins add a perfect pop of colour and style to any home, creating a mesmerising ambiance where the candle flame glows against the metal surface.
Wax melt enthusiasts, we've got the symmetrical moulds that nods to this art deco trend! From our chic segment deli pots, to the versatile square silicone mould and the adorable chocolates mould, the possibilities are endless!
Soap makers, listen up! Our rectangle and circle shape molds are the ultimate reflection of this modern trend. Embrace the sleek and simple shapes for a stylish collection.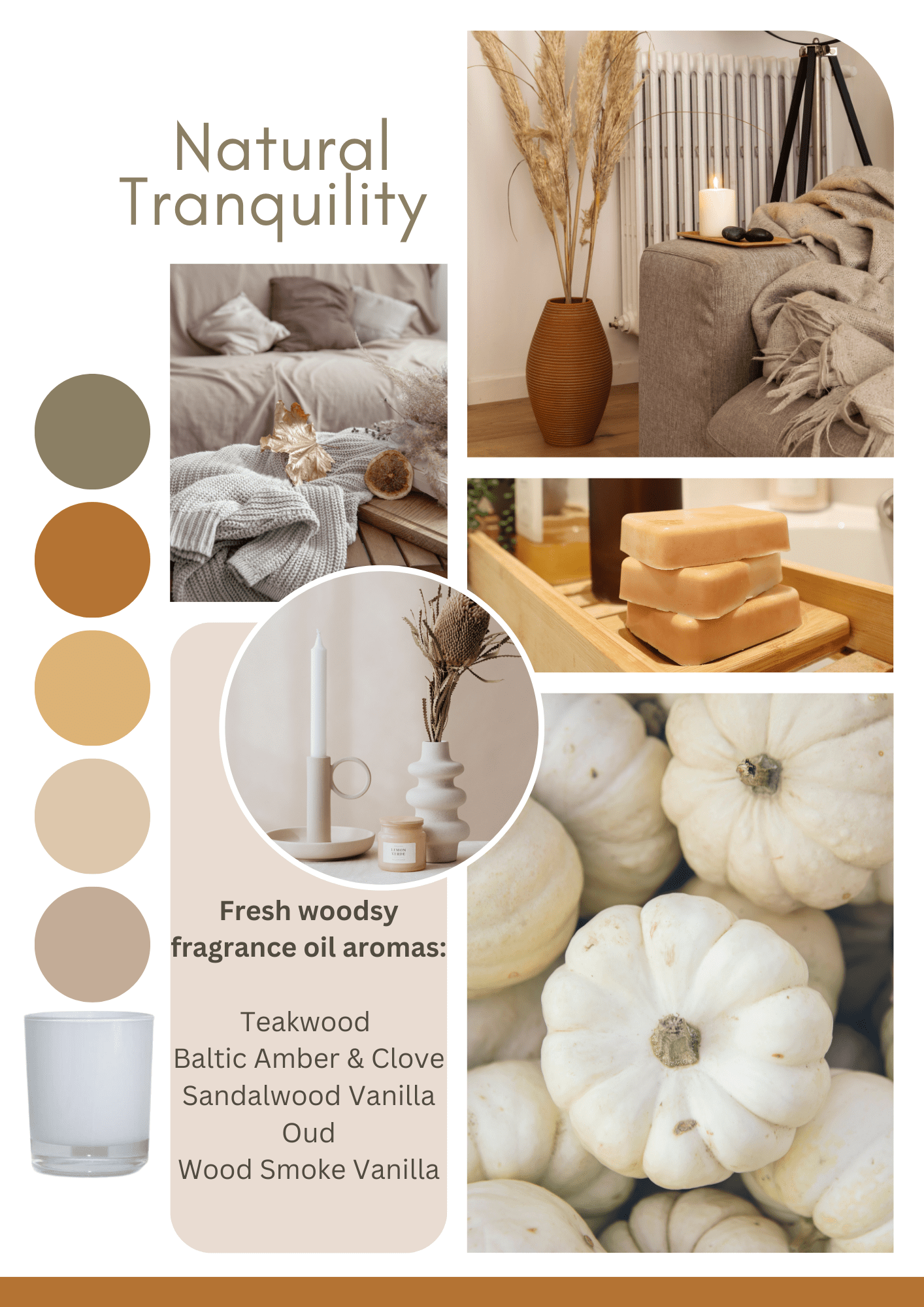 Natural tranquility is a theme that beckons you to immerse yourself in the soothing embrace of the great outdoors. It draws inspiration from the beauty and serenity found in nature's untouched landscapes, offering a respite from the hustle and bustle of modern life.
Picture yourself in a tranquil forest, where gentle sunlight filters through the foliage, casting a warm glow on the earth below. The theme encompasses a harmonious blend of earthy elements, gentle textures, and a serene colour palette that calms the soul and rejuvenates the spirit.
Prepare to be whisked away to a world of pure bliss as we introduce you to our captivating collection of woodsy fragrance oils. These scents are the very definition of natural tranquility, capturing the essence of serene forests and the gentle whispers of nature.
Indulge your senses with the allure of Teakwood, the warm embrace of Baltic Amber and Clove, the heavenly blend of Sandalwood Vanilla, the mysterious allure of Oud, and the enchanting aroma of Wood Smoke Vanilla. Each fragrance is like a secret pathway that leads you deeper into the heart of nature, they create a soothing and uplifting atmosphere in the home.
Elevate your creations to new heights by matching your fragrances with a palette of neutral and earthy dye tones, along with the enchanting shimmer of mica powder colours. The result? A serene and captivating ambiance!
Candle makers, we've got just what you need to bring your visions to life! Explore our array of simple coloured glasses, available in sleek white or black, both in gloss and matt finishes. And if you seek a touch of elegance, our 55cl candle dish with multiple wicks will be your perfect canvas for crafting a masterpiece. And here's a treat – indulge in the soothing sound of nature with our natural wooden crackle wicks that create a symphony of serenity while burning.
Wax melt makers, the possibilities are endless with our carefully curated selection of moulds. Whether you choose our enchanting round mold, functional melt pots, or our whimsical flower mould, you'll find the perfect fit for your imagination to blossom and flourish.
Soap makers, it's time to dive into the realm of nature! Unveil the beauty of your soap bars with our beehive mould,  for those who seek a touch of uniqueness, our hanging silicone mould creates a wonderful blank canvas for creativity or our adorable bee mould are sure to be a hit!
Which trend are you wanting to try this coming season? Take a closer look at our full collection online at Cosy Owl.
Why not stay connected on our social media? Don't forget to tag us in your creations. We love to see what you have been making and we may reshare your posts!