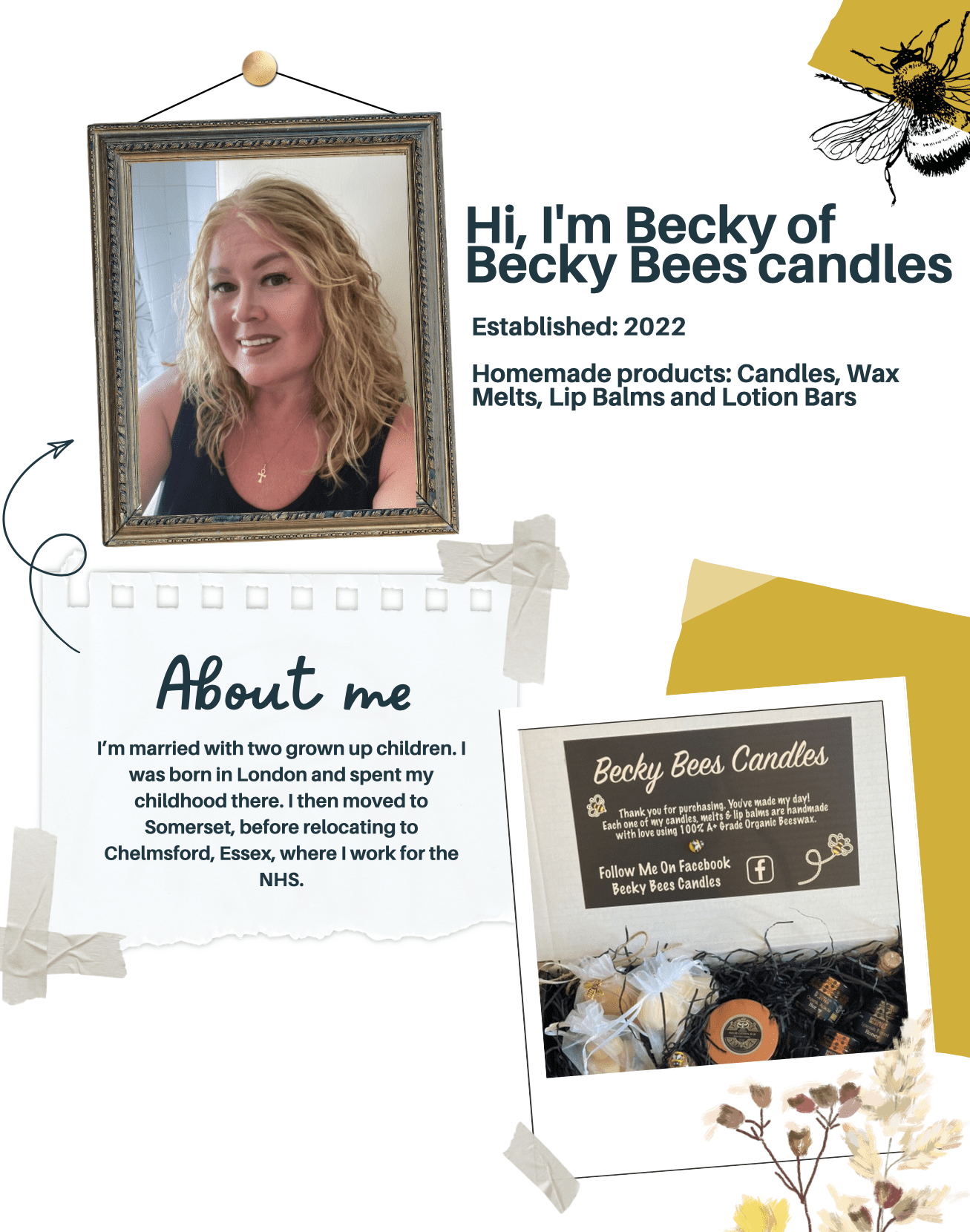 What inspired you to start Becky Bees Candles?
Firstly, my life long love and empathy for nature and wildlife. As a child I could often be found rescuing injured birds, hedgehogs and my personal great love, bees, who sometimes needed shelter from a heavy down pour of rain or a little energy boosting sugar meal before safely flying home to their hives.
Secondly, in 2018 I was diagnosed with thyroid cancer, thankfully I am now all clear but during that period I started looking into the many benefits of bees and their honey, for many illnesses and allergies.
Since prehistoric times bees' have been revered for their "divine gifts and mysterious powers." This led me onto discovering the benefits of 100% bees' wax candles, including neutralising pollutants and improving our moods. As well as, filling your home with the delicious scent of honey, burning beeswax candles produce negative ions which then neutralise airborne pollutants, helping to remove the negative effects of breathing in dust, odours, and mould. The negative ions also stimulate the pituitary glands increasing creativity, intuition, and dream activity as well as being a great option for sufferers with allergies, sinus issues.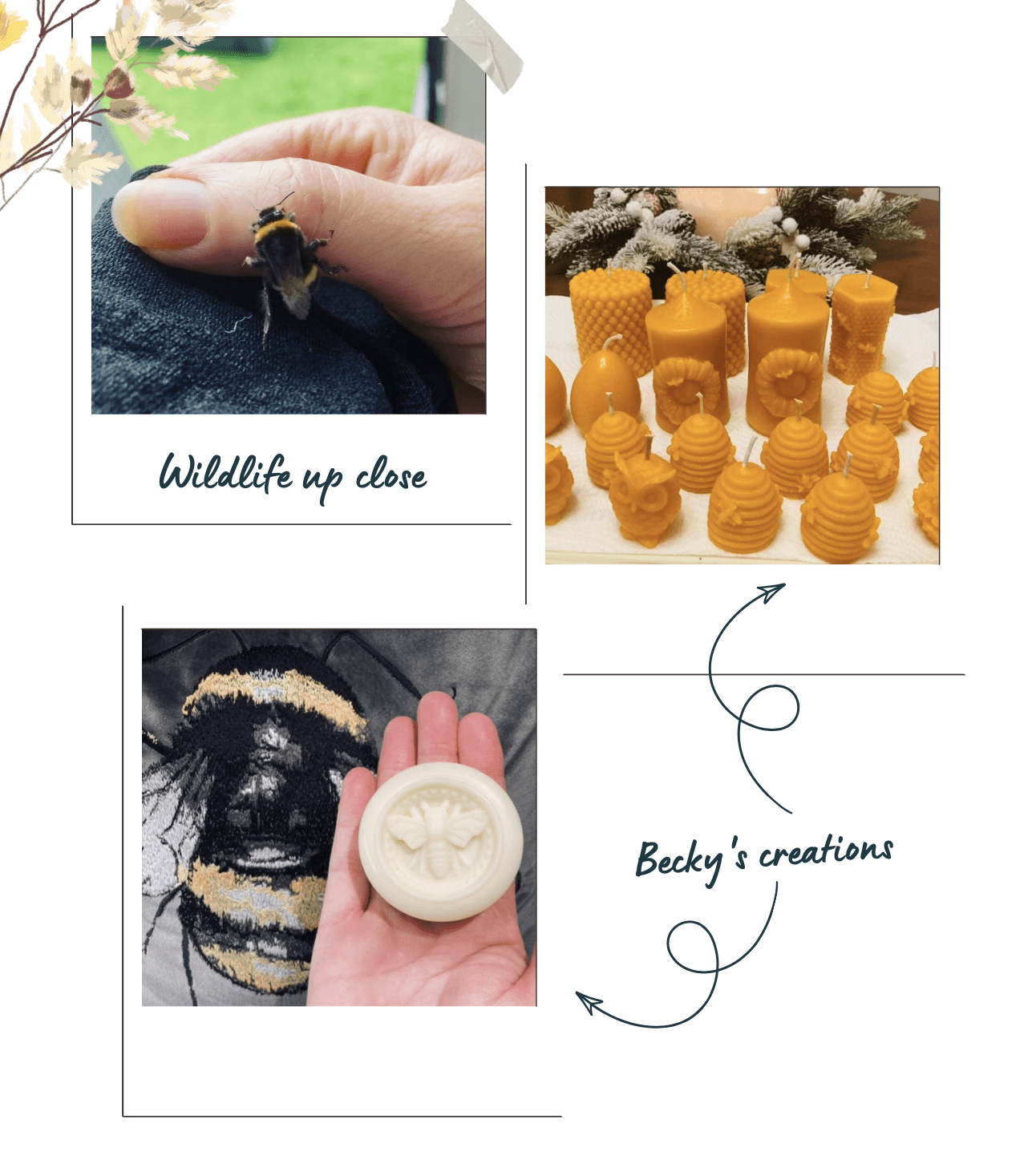 Tell us more about your Lipbalm and lotion bars…
I also have a small range of nourishing lip balms and super moisturising solid lotion bars all made with bees wax which are great for dry skin including those with dermatitis, psoriasis, eczema, sunburn and burns. The lip balms are also soothing to our furry friends dry noses and paws.
What are your favourite Cosy Owl products?
After using and trialling other suppliers, I found Cosy Owl, who are local to me and found them to be the best supplier for quality, care in packaging, choice and pricing for my candle containers, wicks and naturally sourced essential & fragrance oil scents. The scents are exquisite, strong but not over powering. They have a great range of scents, my current favourites are pink grapefruit, vanilla, plum & mulberry, sugared berry, coconut and black coconut.
Where can your products be found?
My products can be found on Facebook, Instagram and in store at the The Art Place located at The Meadows Shopping Centre, Chelmsford, Essex. The Art Place is a charity run by volunteers, where local artists and small business' like myself rent space to display their work and products with a percentage of each sale going directly to the charity.
What's next for your business?
Over the next few months I will start selling Becky's Bees Candles on Etsy and this summer I will be taking my products to crafts fairs. Two things I'm really excited about. I want everyone to enjoy my products as much as I enjoy making them. I will also be adding bees' wax soap bars in the very near future.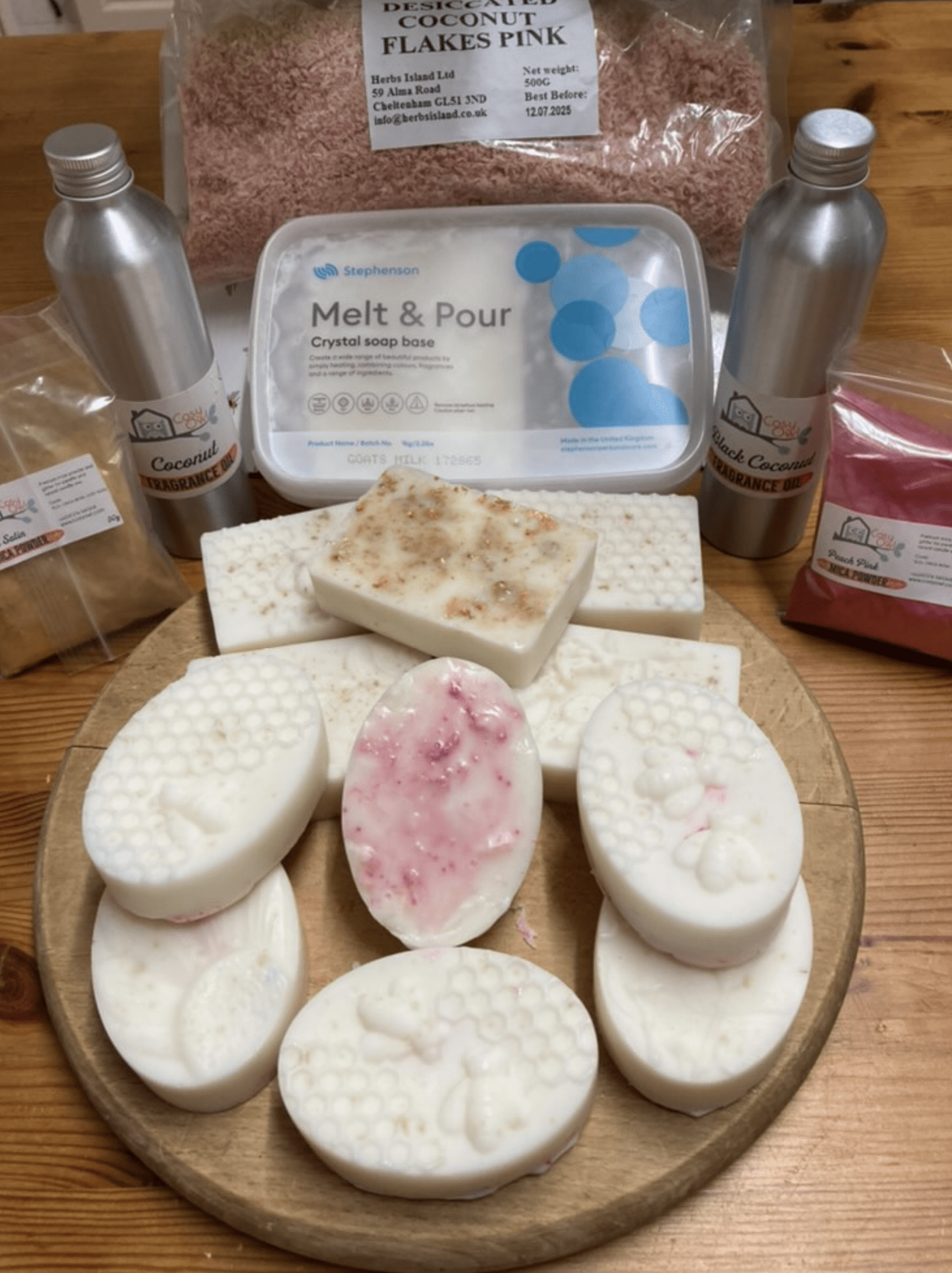 What is one tip you would give other makers?
One of my tips would be when making my candles is knowing the best time to pour the beeswax into containers. The temperature should be around 155-160F, at this point you should notice a thin film around edges of the pot and a thin film coating on top. Rather than returning to my double boiler to disperse the coating, I use my heat gun to quickly torch the coating before pouring into containers. This also helps from not over boiling and losing any added fragrance or essential oils scents.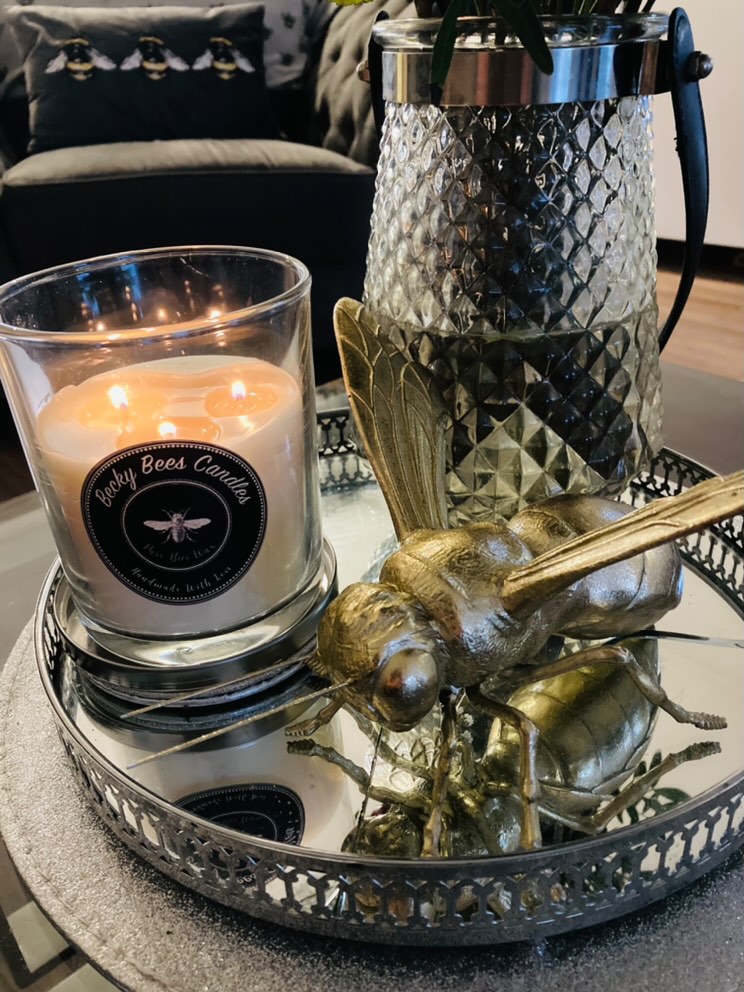 We love hearing more behind how you started your business and the inspiration behind your products! Want to feature in our up-coming creator blogs?
Tag us in your photos on Instagram or Facebook, with the hash tags #cosyowlfeature #cosyowlsupplies and we will contact a creator once a month to be featured.