As part of our Halloween candle and soap making series, it's now time to create a soap worth screaming about! We have created the handiest hand soap just in time for Halloween. Using just a washing-up glove, pegs and a few other ingredients you can make your very own, ready to spook everyone in your household.
TikTok- Behind the scenes making this Halloween hand soap:
Ingredients:
Bain Marie or double boiler
Rubber glove x1 
Pegs 
Cardboard tubes x2 (32cm long)
Tape
Weighing scales
Spoon
Step 1: 
First, cut up the soap base into small chunks, this makes it easier to melt.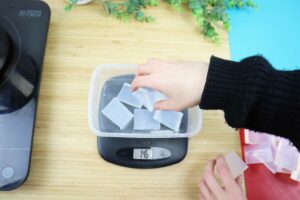 Step 2:
Add the chunks to a bain marie or double boiler on medium heat, do not exceed 75 degrees. Melt until liquid and clear, stirring occasionally.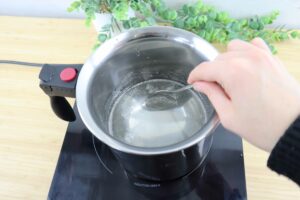 Step 3: 
While the soap is melting you can set up the glove mould. Simply tape two cardboard tubes to a worktop or craft board so they are steady and lone standing. They will need to be about 8cm apart. Stretch the washing up glove slightly to reach either tube and peg in place. The glove should be above the worktop surface and be held securely.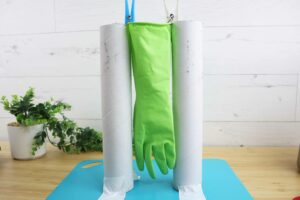 Step 4:
Weigh the fragrance oil to the amount required according to our IFRA documents which can be found under each fragrance data sheet. Each fragrance oil also has a flash point at which the scent will evaporate. Make sure you check the temperature of the soap and make sure it is under your fragrance flash point temperature when adding. We are using Alien Fragrance Oil to match with the purple coloured mica powder, creating a spooky design. 

Step 5:
Pour the fragrance oil into the soap liquid and mix gently. Make sure this has fully blended to a clear state.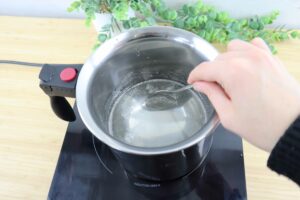 Step 6:
Next, add a small amount of mica powder and mix this in slowly. The mica powder will need mixing until fully blended. 

Step 7: 
You will now need to work quickly as the soap sets quite quickly. Once fully blended, pour the liquid into a pouring jug then straight into the glove. 
Step 8: 
Leave this for 3-4 hours to set. You can make sure it has set by gently feeling the glove to see if the soap has hardened. You can then peel away the glove from the soap or alternatively cut the glove and peel. This will reveal the hand soap in a beautiful dark purple colour to match the Alien type fragrance. Now it's ready for adding to the side of the sink this Halloween.