Neutral pumpkin colours are this year's must-have trend for Halloween. We have been inspired to make a candle using a fun ombre layering technique with pumpkin neutrals. With this project, you can unleash your creativity using different colour blends creating a design unique to you. It's the perfect decor piece to add a seasonal scent update to your home.
Ingredients:
Step 1:
Weigh out 160g of Soyaluna container wax. For this tutorial we are using a block sample of Soyaluna wax, however, this wax comes in a pellet form making it super easy to melt.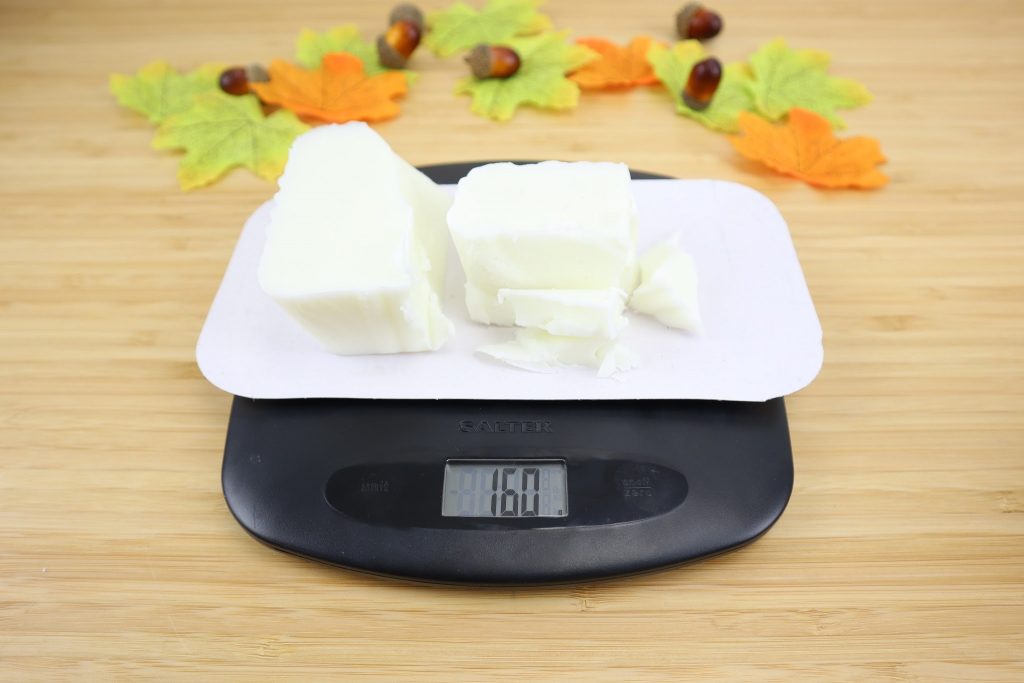 Step 2:
Add the wax to a bain-marie or double boiler and melt at a medium temperature. Do not heat the wax above 85 degrees as this can discolour and weaken the wax. The best way to keep an eye on the temperature is to use a thermometer.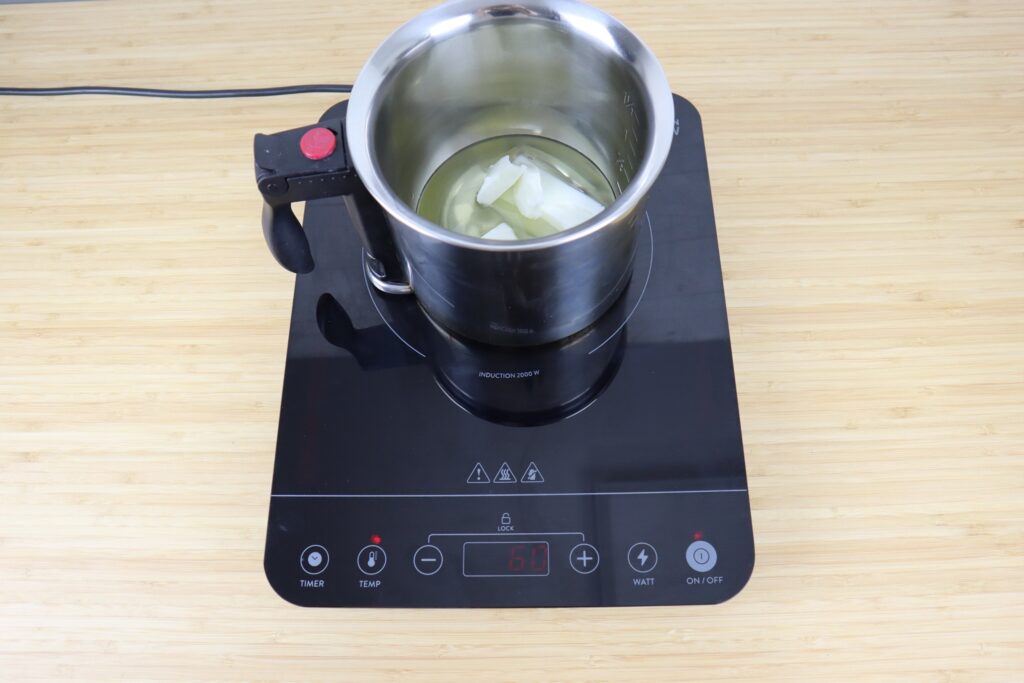 Step 3: 
Now it's time to add some fragrance oil to give your candle a wonderful, cosy scent. First, weigh the fragrance oil according to the amount of fragrance load you require. We recommend using a 6% fragrance load with Soyaluna, but the wax itself can take up to a 10% fragrance load depending on your scent preference. 
Each fragrance oil will have a temperature flashpoint in which it is important to check before using to avoid the scent evaporating. The wax will look smooth and clear once fully melted. The fragrance oil can be added at 80 degrees, however for Apple Cinnamon Fragrance it's flashpoint is 69.4 degrees. If the flashpoint of your fragrance is lower than 80 degrees, make sure the temperature of the wax is below this before adding to avoid evaporation. 
Stir this in slowly, making sure it blends fully into the wax.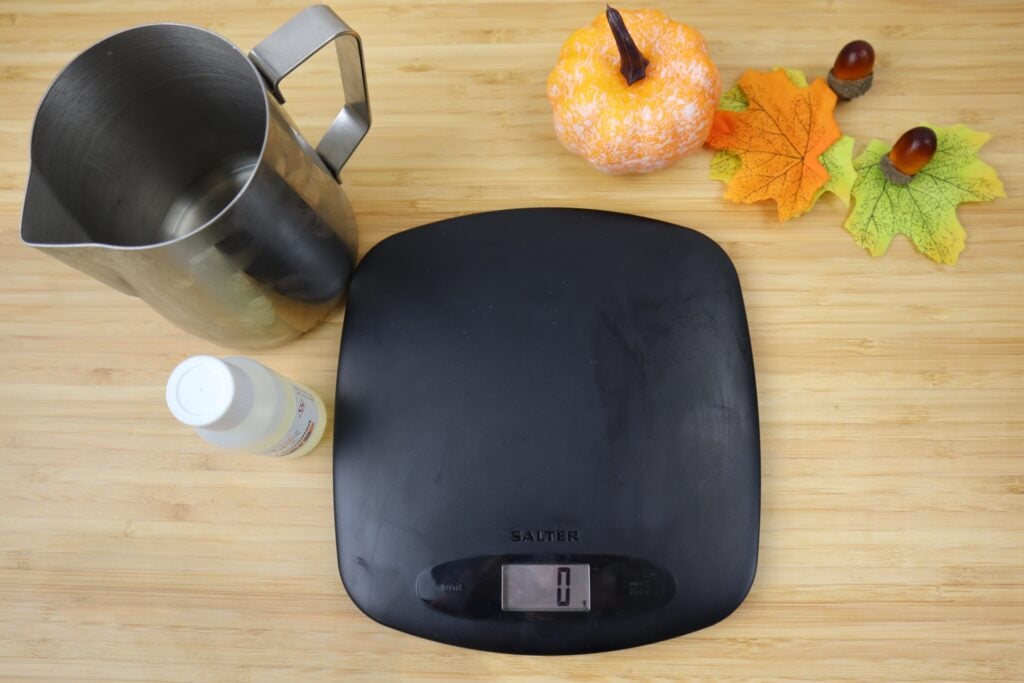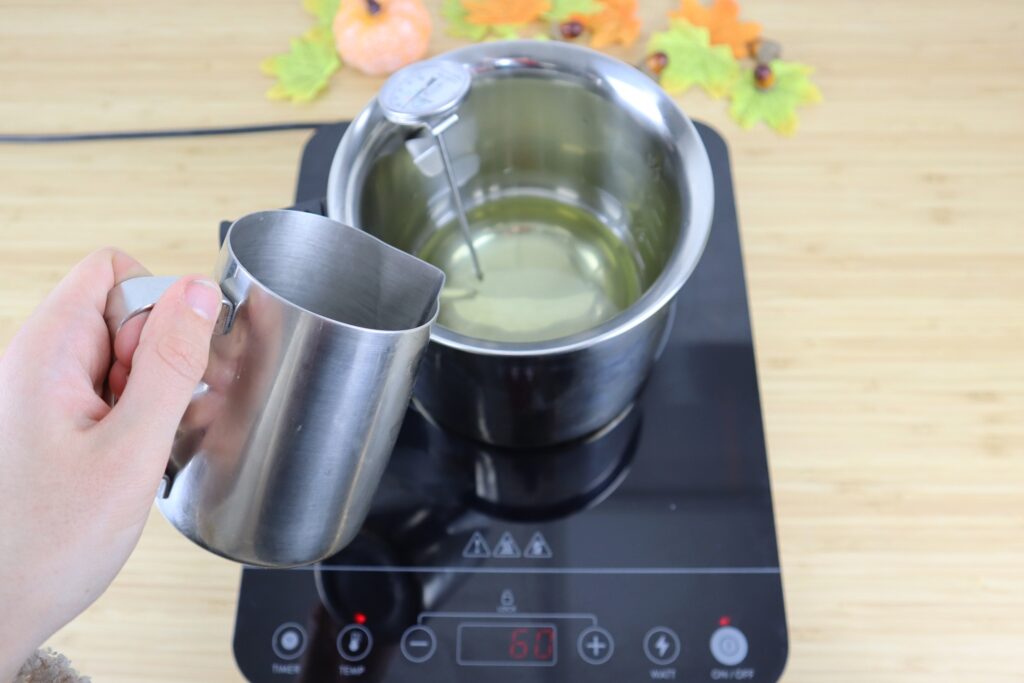 Step 4:
Next, prepare your candle container by adding a glue dot to the end of the wick. Peel the tabs away and stick one side to the end of the wick and the other end to the middle of the glass. Make sure the wick is central and add use a wick centring tool to secure it in place. The wick can slide into the gap of the tool, fixing it in a central position.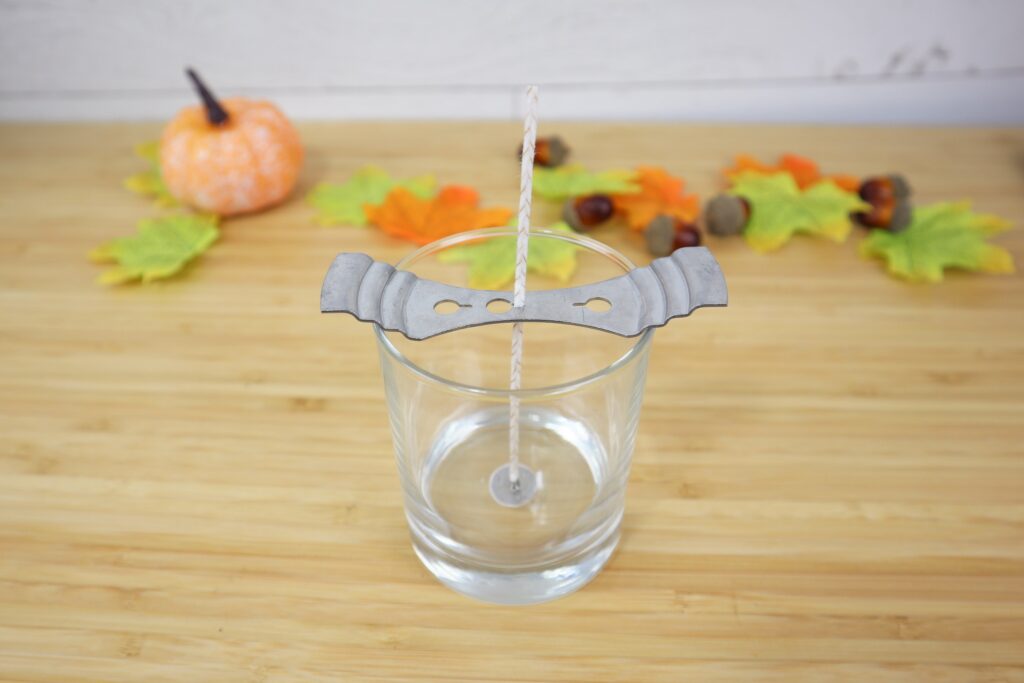 Step 5: 
Pour a third of the wax into a jug and pour slowly into the glass container. This will be your first white layer. Soyaluna cures a pure white wax which means no added white dyes need to be added. Leave the wax to set for at least 30 minutes.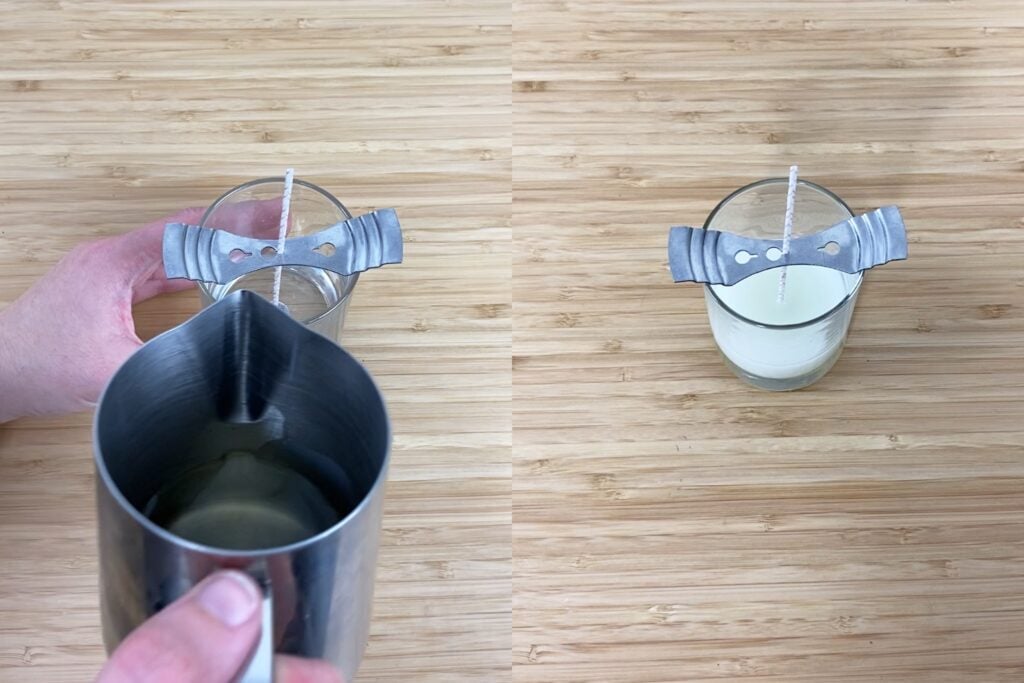 Step 6:
Pour about a sixth of the wax into the jug and add a pinch of Orange Bekro dye. Mix in until blended with no appearance of dye chips.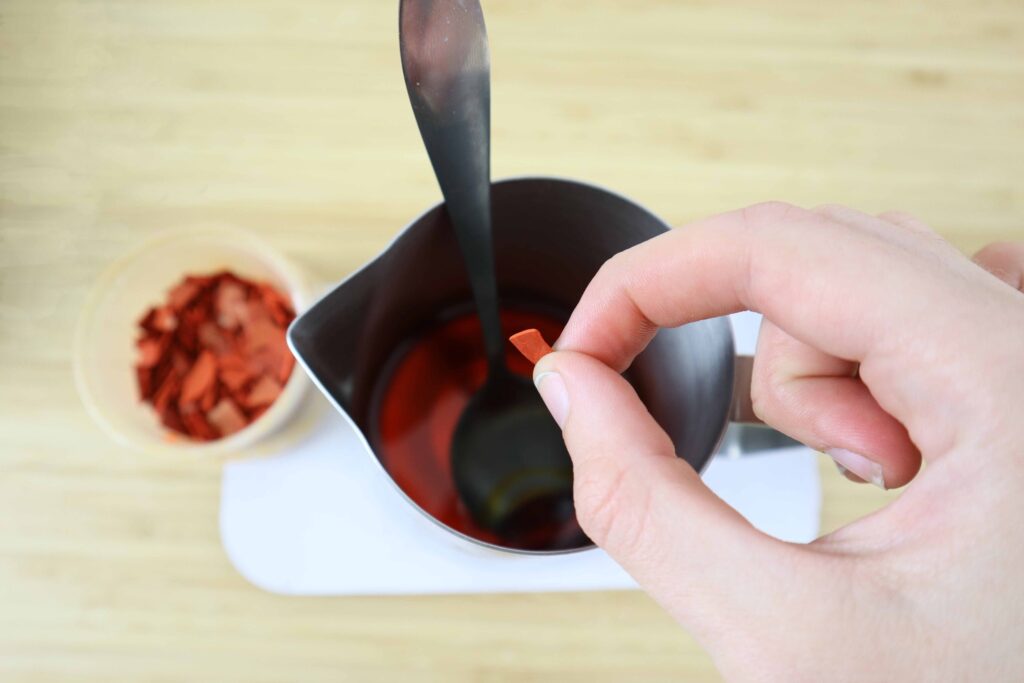 Step 7:
Pour this into the candle container as your second layer. You will see a lovely contrast between the white and orange. Leave this to set for 10 minutes before adding the next layer.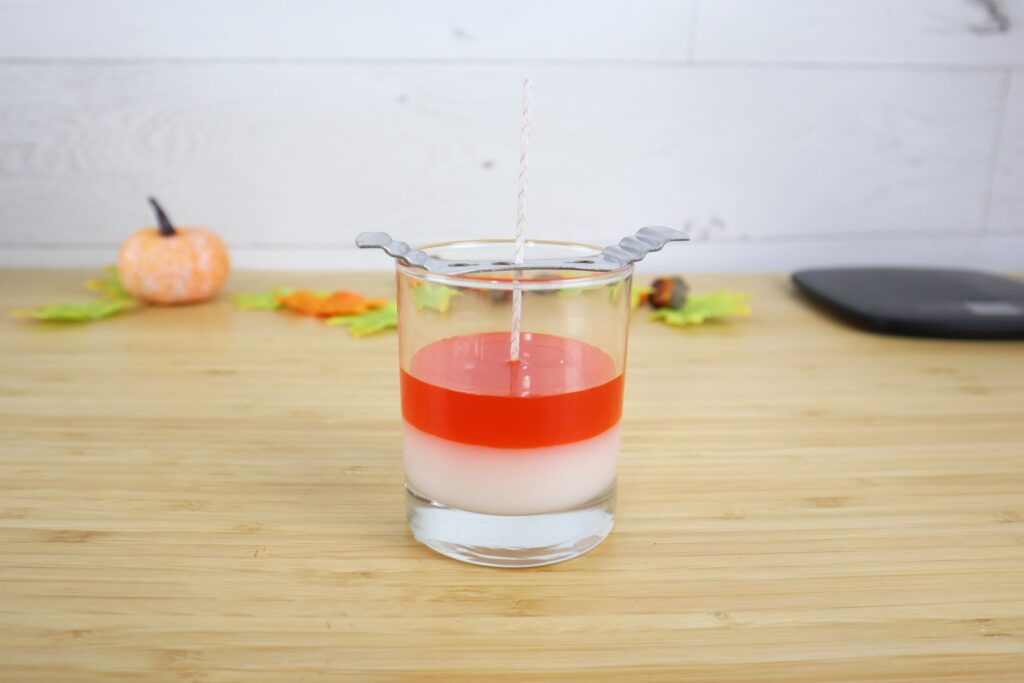 Step 8:
Repeat step 7 with a smaller amount of Orange dye for a lighter orange colour. Leave to set for a further 30 minutes.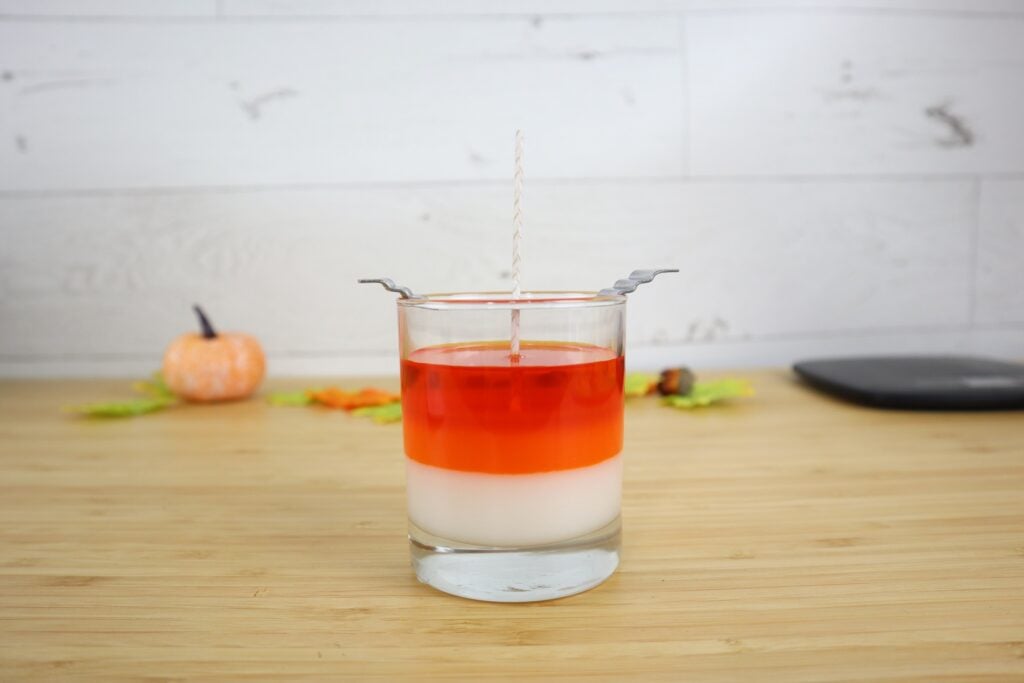 Step 9:
Add the rest of the melted wax into a jug and add a small pinch of Green Bekro dye and mix well. Pour this final layer into the container to complete your pumpkin top. Leave this to set for 24 hours.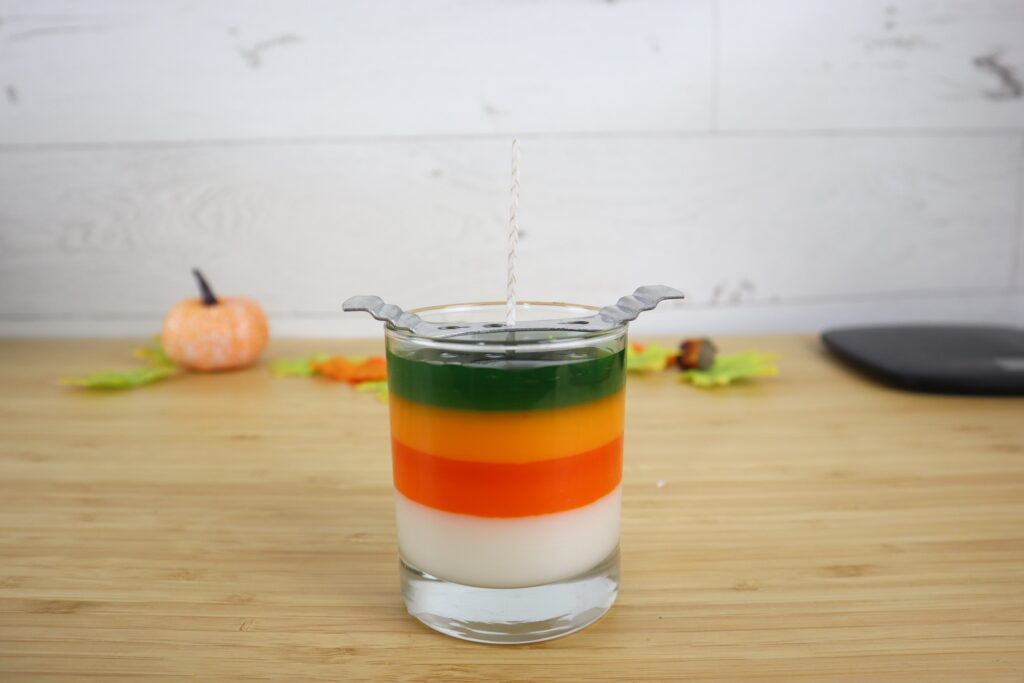 Step 10:
For an ombre effect, use a heat gun or hair dryer to heat the wax gradually around the glass. This will melt the wax layered and slowly blend them together creating an Autumnal, cosy Halloween candle. 
It's so satisfying watching the colours blend together while lightly heating the wax. After 24 hours the candle is ready to light and enjoy in a cosy spot in the house. Why not match the colours to your favourite Halloween colour combination and see how the colours blend together?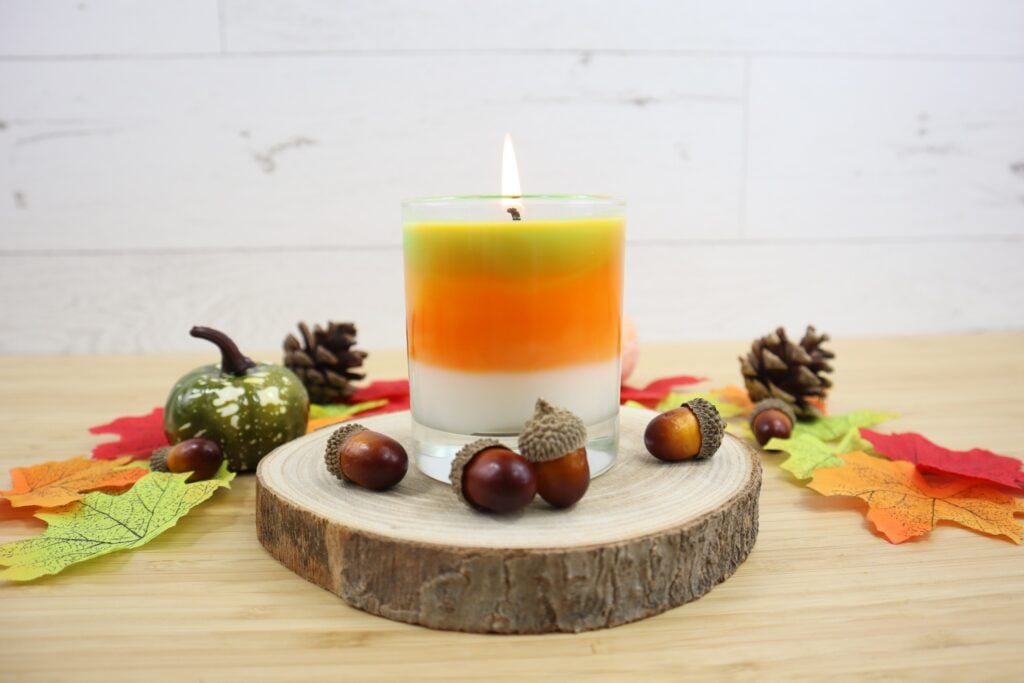 Follow us on social media and tag us in your creations. We love to see what you have been making!