Who's feeling in the festive spirit? We are loving all things Christmas scented to get us in a festive mood.
These Christmas present embedded wax melts wax melts are sure to be a great hit for customers or to make as stocking filler gifts. They not only make your home smell gorgeous but also melt with whimsical colours of dye and mica powder.
Ingredients
Spoon (to be used for candle making only)
Electric weighing scale
Step One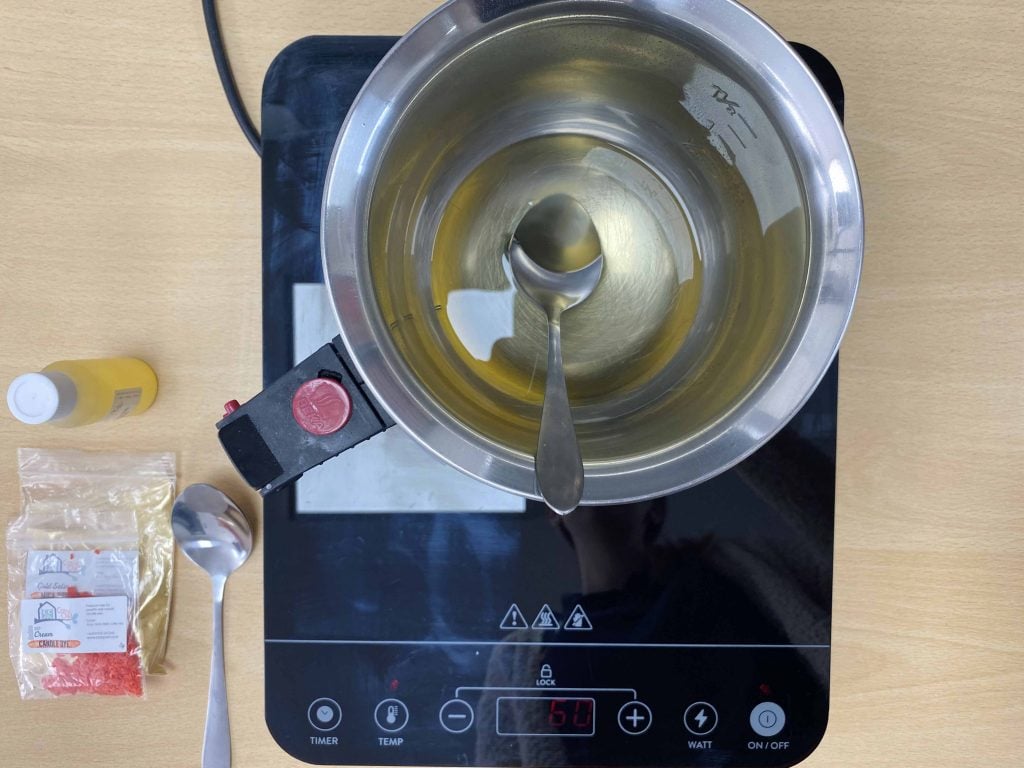 First weigh out enough wax to fill your chosen mould. For these wax melts we used 200g of wax. Add the wax to a Bain Marie or double boiler on a medium heat until the wax has melted all the way through. We recommend melting this wax around 70°c.
Step Two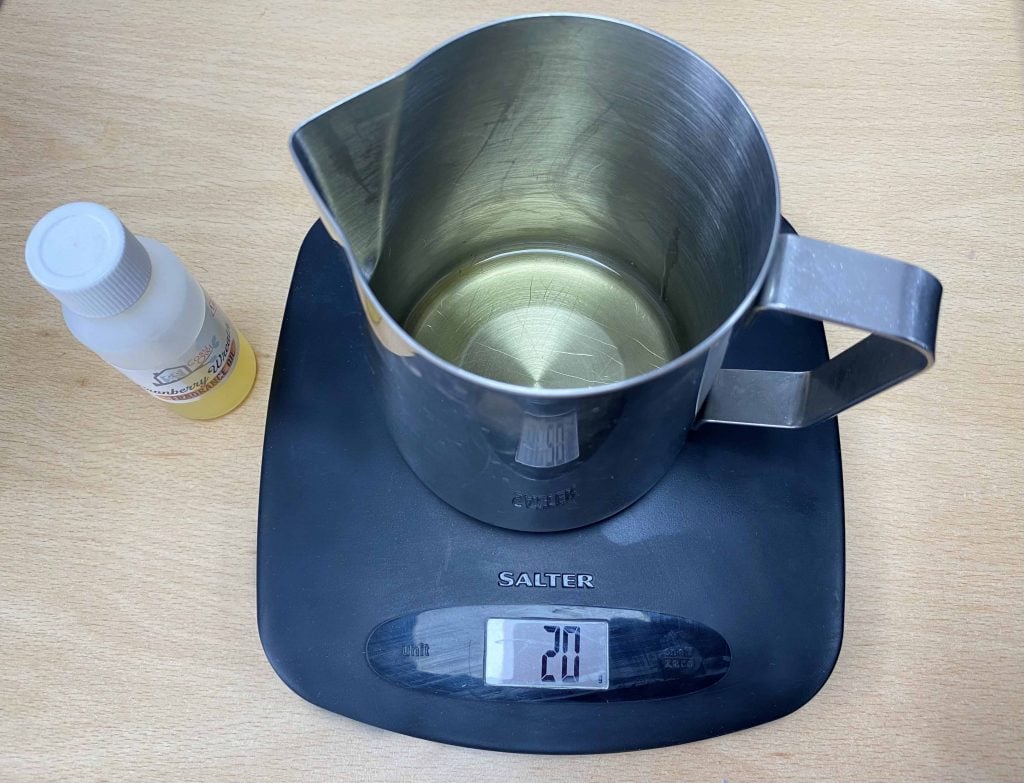 Weigh out your fragrance oil- we have used a 10% fragrance load. This means 10% of the 200g of wax which equals 20g of fragrance oil. EcoSoya Melt has been specially designed to take fragrances up to a 12% load.
Step Three
Check your Fragrance oil flash temperature point before adding to the wax as every scent has a different temperature to which it will need to be added. The flash point of a fragrance is the temperature at which the oil will start to evaporate. To keep a good scent you will need to add the oil to the wax under its flash point number. In this case, Cranberry Wreath has a flashpoint of 81°c. Add the Fragrance oil to the melted wax.
Step Four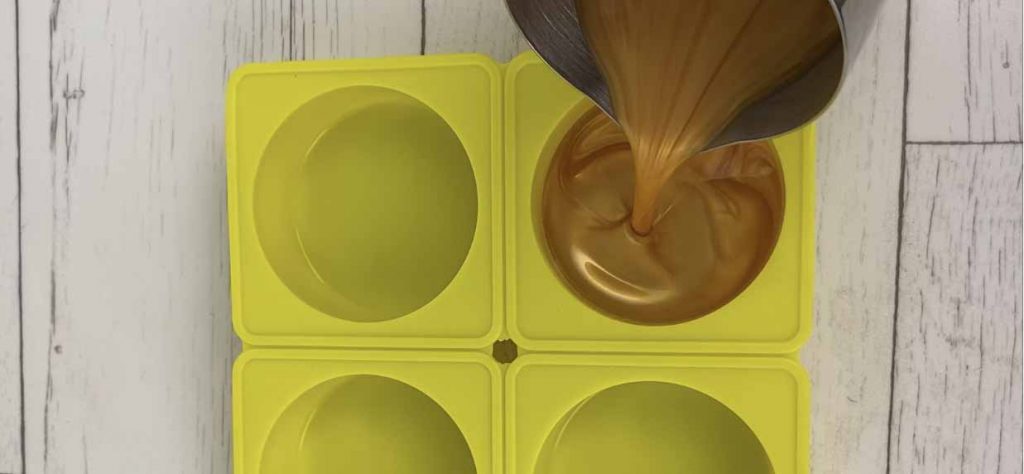 Next add a pinch of cream dye to the melted wax and mix slowly until fully blended. You could also now add some mica powder to the wax, a small amount goes a long way. Once this has been mixed in fully, you can now pour in a base layer into each circle mould. We poured the wax in at around 60 degrees and filled the circles just under half way. Put the remaining wax to the side to remelt later on.
Step Five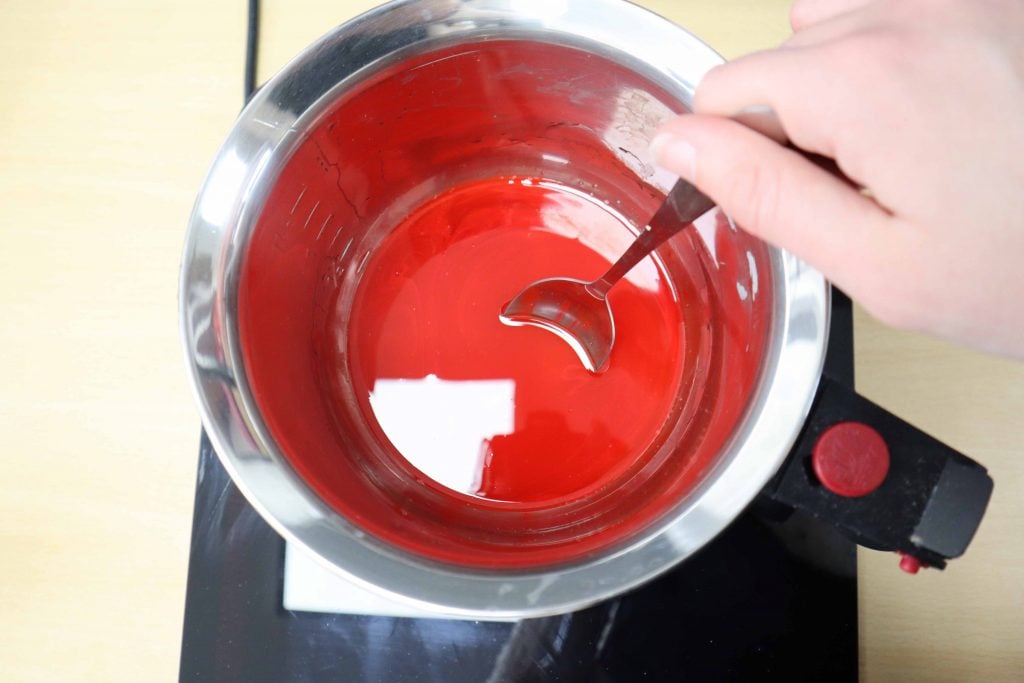 Next it's time to melt a small amount of wax ready for the present moulds. Melt about 80g of wax until smooth. Then add a pinch of red dye and mix until blended.
Step Six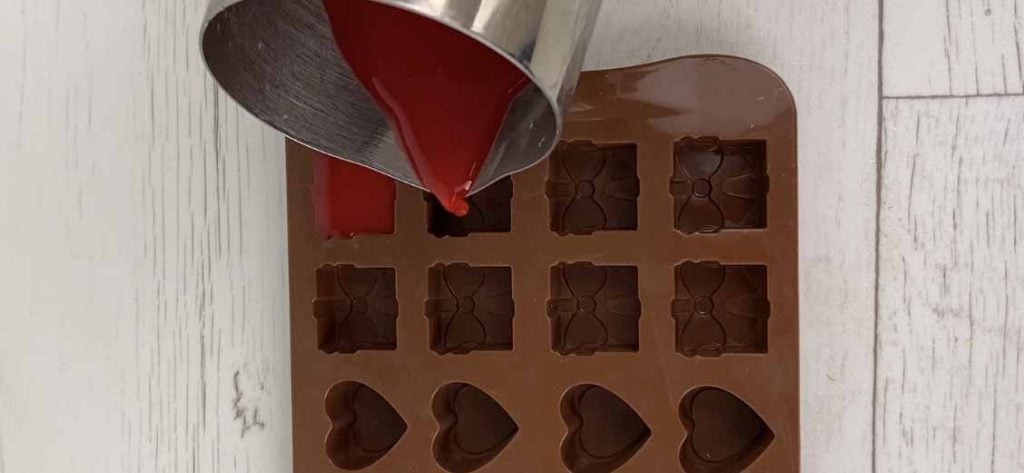 Pour the red wax into the present moulds at around 60 degrees.
Step Seven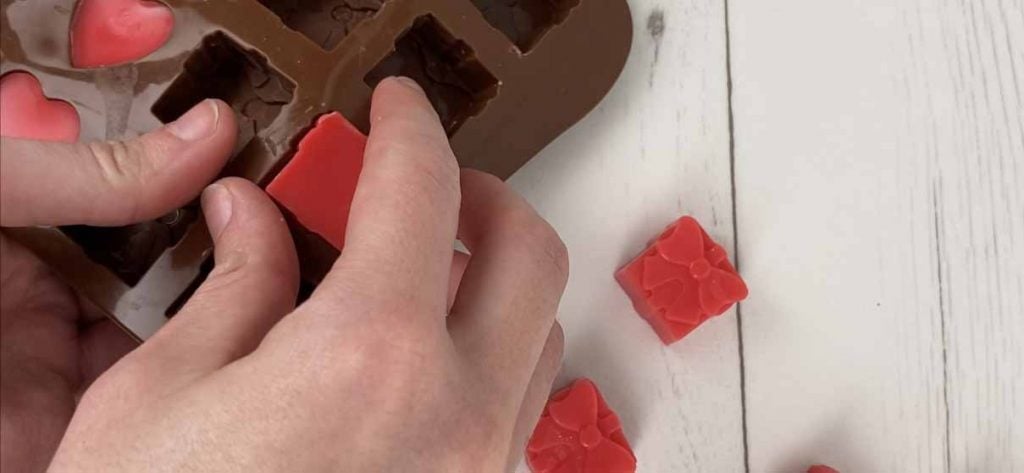 After about 4 hours the wax presents should feel hard to touch. Gently un-mould the presents.
Step Eight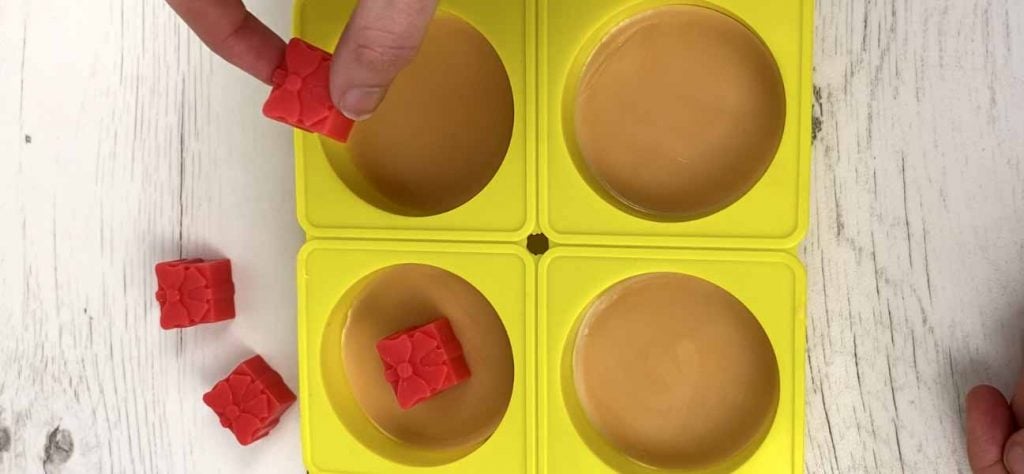 The base layer of your wax melts should now be hard to touch. Place the presents onto each circle. You can have fun with positions and layering to create something unique. While you are deciding on a design, remelt the left over gold wax until smooth.
Step Nine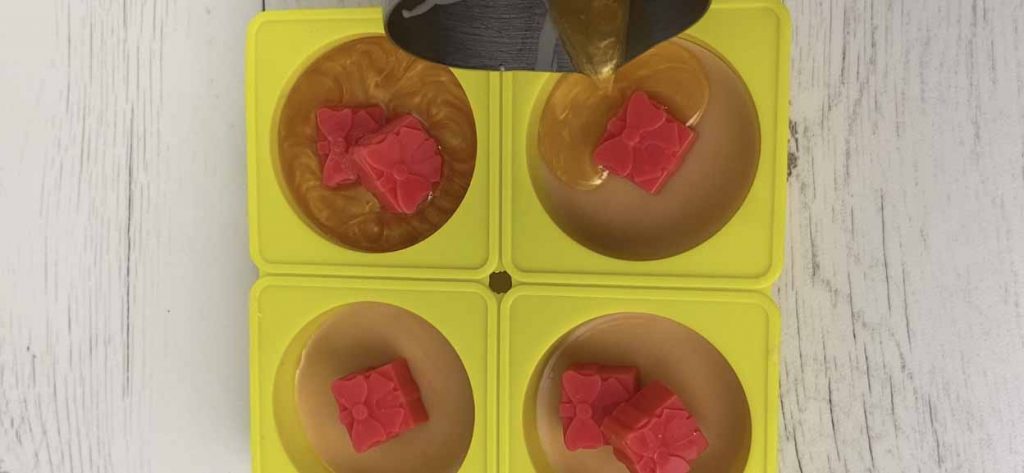 Once you are happy with the position, add the golden wax around the presents embedding them in place at around 60 degrees. If you poor the hot wax over the presents this will give them a layer of wax and may melt them slightly.
Step Ten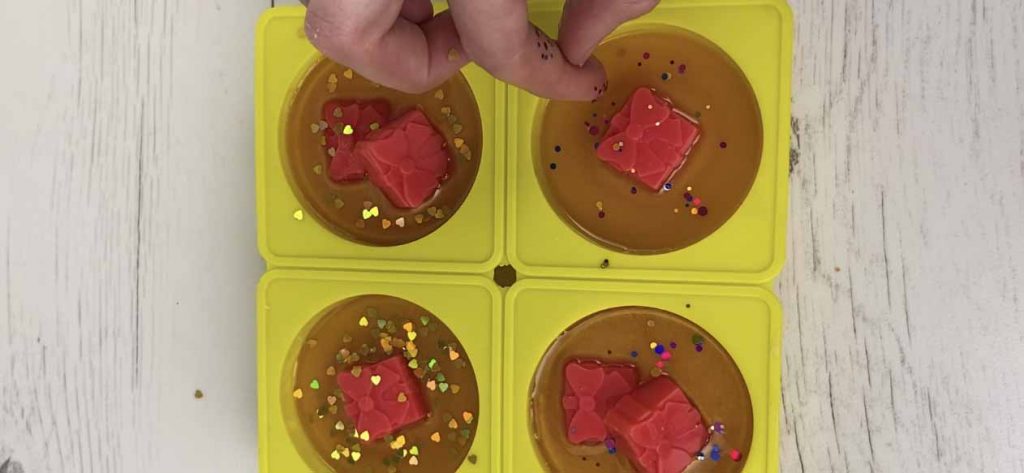 Optional: You may want to add some extra sparkle to the wax melts. Simply add a pinch and sprinkle over the melts to add a fun, festive feel.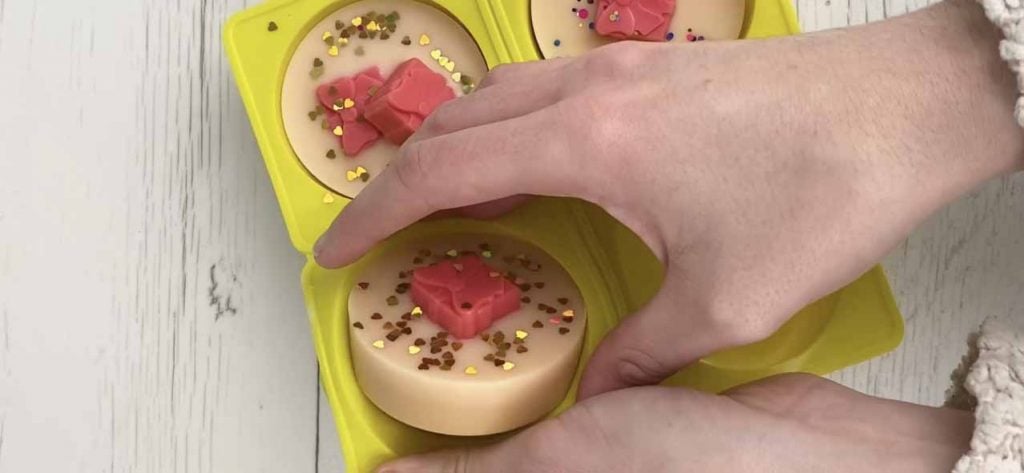 Step Eleven
After 24 hours de-mould your circle wax melts and enjoy the beautiful festive colours. Add the Christmas Embedded Wax Melts to a wax melt burner and enjoy the sweet, cosy scent of Cranberry. Depending on the wax burner size, you could cut small amounts of the wax melt up to use in sections to make each piece last even longer.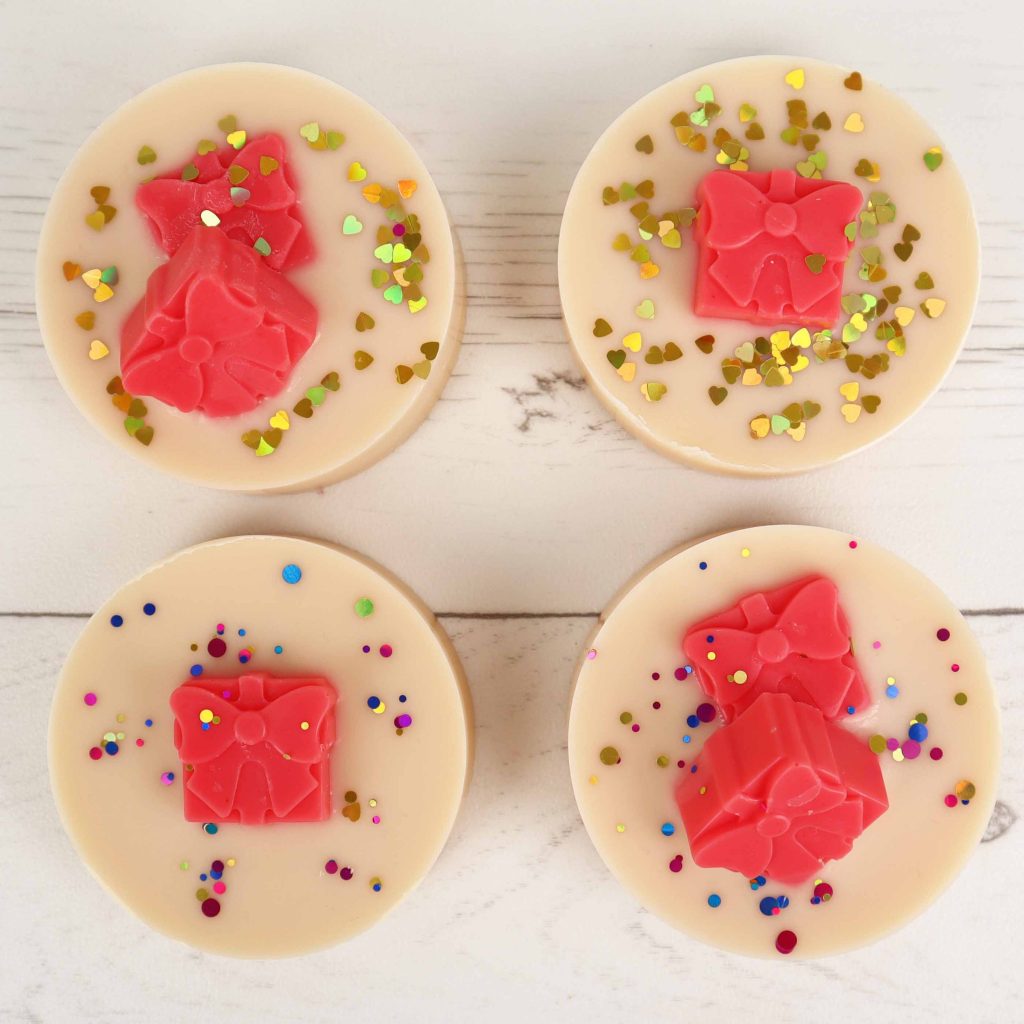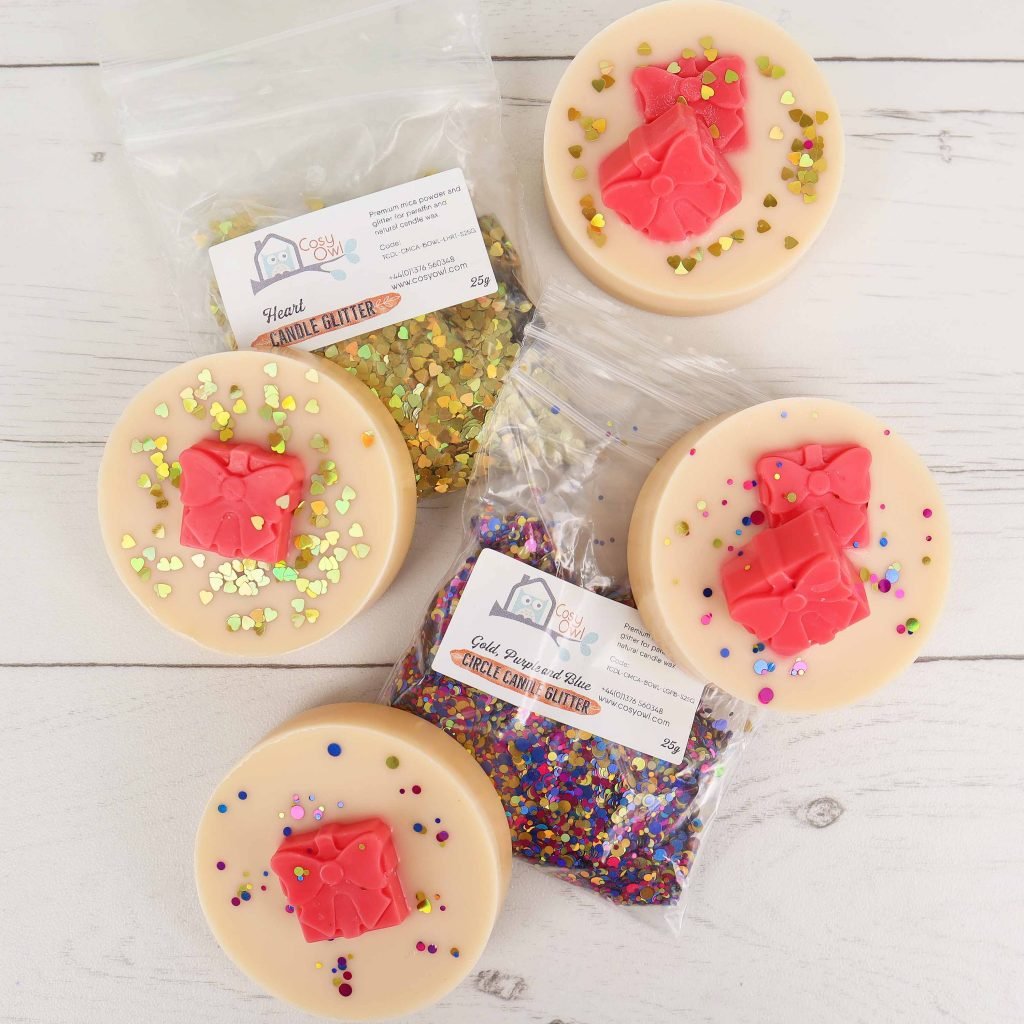 Don't forget to tag us in your festive creations on our social channels!