Spring is the perfect time to get busy in the garden and grow some lovely flowering plants. Recycling things you already have around the home into plant pots is a great way to be more eco-friendly, and it will save you some money too. Let's get creating with fun garden recycling project ideas…
Here are some fun ways to up-cycle everyday household objects into planters from the new book A Year of Nature Craft and Play by Catherine Hughes & Becky Goddard-Hill. Designed to inspire kids to get creative with nature, it's filled with 52 crafts, art activities, gardening projects, games and science experiments that will keep them busy all year!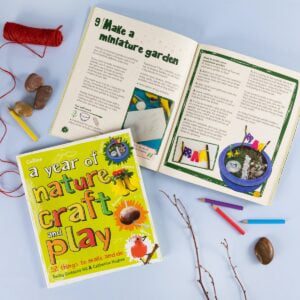 You will need
A container to recycle/ up-cycle
Spray paint (optional)
Small stones or lining material, depending on the container
Compost
Bedding plants, small herb plants, small houseplants or seeds
Welly pots
If you've got an old pair of wellies that don't fit anymore or have started to leak, you can turn them into a quirky container display.
Start by removing the bottom liner from inside the wellies, then wash them with warm soapy water.
Drill or hammer some holes through each sole to create drainage.
Add some small stones to the bottom of each welly. This will help water to drain away and also stop the wellies blowing over when it's windy.
Add compost to each welly, pressing down lightly until it's about 5cm from the top.
Add your plants or seeds to the top, then fill in any gaps with more compost.
Water your wellies! When you're finished, it's time to display them in the garden.
Colander planter
An old colander makes a brilliant plant pot.  It already has holes in it, so water can drain away easily, and you can choose to hang it up or stand it on a patio.
Wash and dry the colander.
If you'd like to change the colour of your colander, carefully spray paint it and leave to dry.
Add a liner to the inside of the colander, to stop the compost falling out. Coffee filters or a circle of hessian fabric both work well.  If you don't have either of these, add a layer of small stones or gravel to cover the bottom of the colander and extend slightly up the sides.
Fill the colander with compost until it's almost full.
Arrange your plants on top of the colander. When you're happy with the layout, fill in around them with more compost then water the whole container.
If your colander is going to be a hanging basket, use some thick string or rope to create a hanging loop by tying each end to the handles. It's nice to include some trailing plants as these will spill over the sides and create a bigger display.
Upcycled candle jars
Don't throw away those empty candle jars and tins – instead, you can turn them into lovely plant pots for houseplants.
We used the 350ml aluminium candle tin, round flat glass dish, large glass cube and large round glass container to make our upcycled houseplant pots.
Remove any wax residue and wick from your container, then wash it with soapy water.
Put a shallow layer of small stones or gravel in the bottom of the container.
Add some compost to the container until it's about three quarters full.
Pop your plant in and firm it down gently. Carefully fill in any gaps with some more compost.
You can leave the soil exposed on the top of your container, or add some decorative gravel for a neat finish.
Great plants for small indoor pots like these include succulents, cacti (wear gardening gloves while planting!) and dwarf flower bulbs like narcissus and iris. Or you could plant some herb seeds in a few pots and create a mini herb garden for the kitchen windowsill.
More fun ideas for upcycled plant pots
There are so many household items that you can rescue and turn into plant pots.  Here are some more ideas to inspire you.
An old teapot
Tin cans
A chimney pot
Old tyres
A biscuit barrel
An old sink
Old toys
A broken watering can
Whatever you use, make sure there are small drainage holes or a layer of stones in the bottom – other than that, the only limit is your imagination! What fun garden recycling project ideas do you have?
Follow us on social media and tag us in your fun garden recycling project ideas, we would love to see what you create.
YouTube – Find more tutorials and project inspiration