Caring for your candle will help extend its life, ensuring a longer burn time and lasting scent. These tips and tricks will help keep your candle lasting as long as it should and keep you on track to burning a candle safely.
1. Burn a candle for no longer than 3-4 hours at a time.

2. Make sure the candle burns evenly the first time as this will help to avoid tunneling.
You can do this by making sure the surface of the candle has melted and reached to the edge of it's container before blowing out the flame.

3. Never leave a candle lit without supervision.
(Here's an action shot of Abbey and Hayley from our team blowing out candles).

4. Trim your wick following each burn, the best length to trim the wick is around 5mm.

5. Keep your candle away from drafts.

6. Store candles in a cool, dry place.

7. Keep any debris away from the candle such as wick trimmings.

8. To avoid getting dust and debris on your candles, cover them with a lid.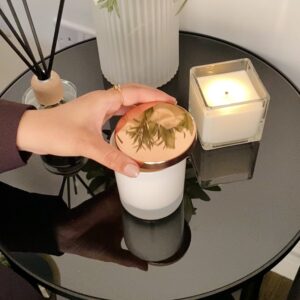 Follow us on social media and tag us in your creations. We love to see what you have been making!