Who's ready for festive candles? We have felt inspired by our Candy Cane Swirl Fragrance Oil this week. This meant it was time to experiment with ways to create a swirl design with wax. We have tested a few different techniques so you don't have to and we found our absolute favourite way to get that Christmas candy candle in time for your Christmas displays at home like the candle above.
Here's a few of our experiments below…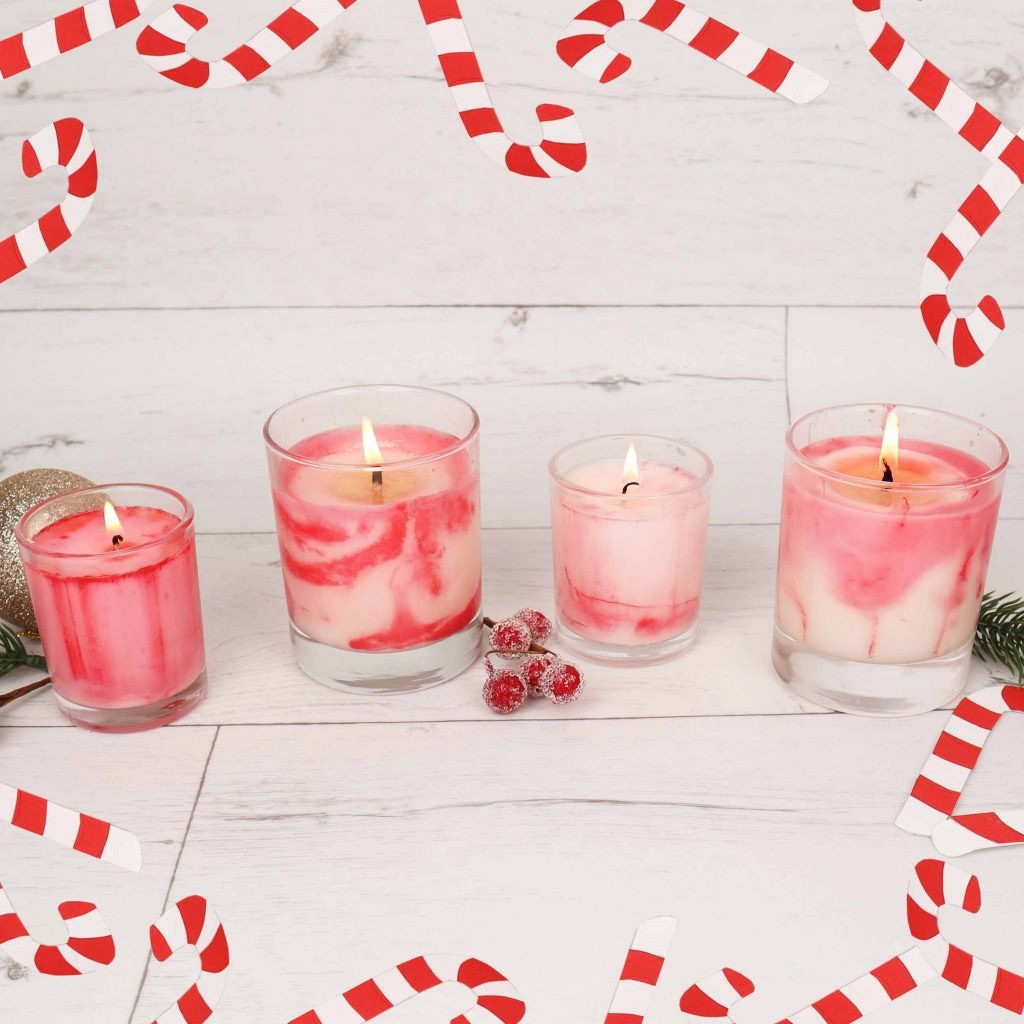 Ingredients
Step 1 – Measure Your Wax
Our 20cl glass containers hold about 160g of wax. On your weighing scales, pour 160g soy wax into a melting pot or Bain Marie.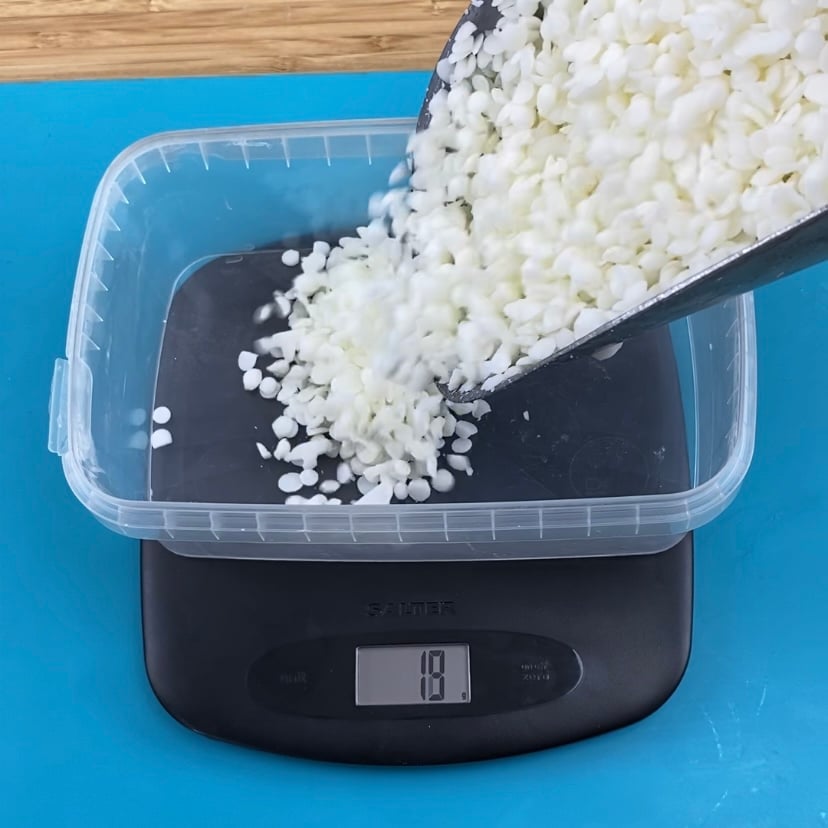 Step 2 – Melt the Wax
Pop the wax onto a medium heat (around 60c) and stir it from time to time until it has completely melted. Stir slowly avoiding any air bubbles entering into the wax.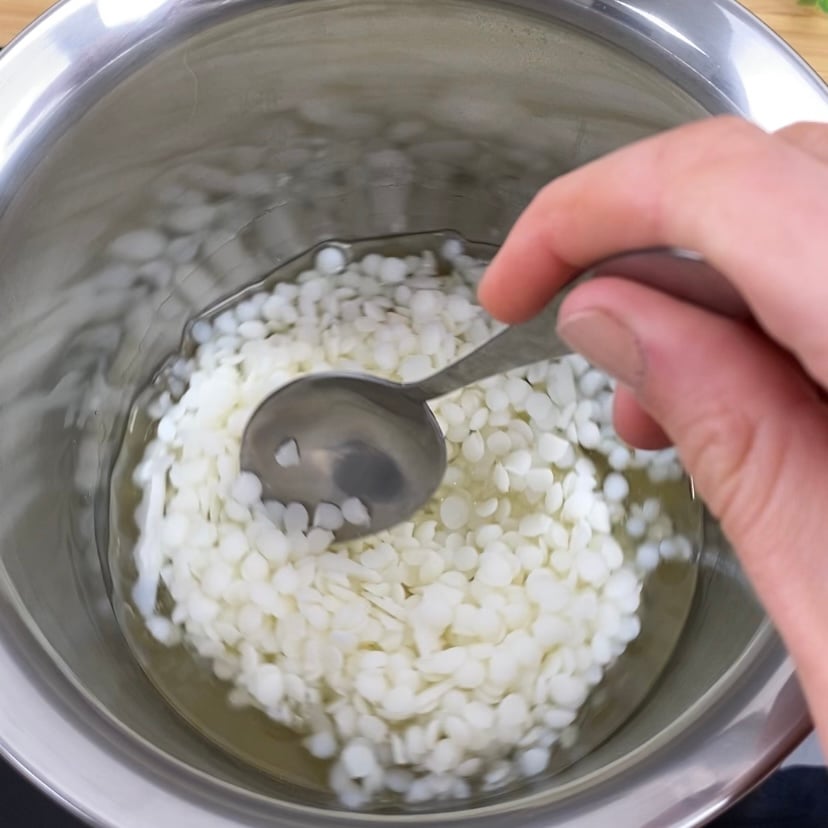 Step 4 – Add the dye
Once the wax is clear and smooth pour a small amount into your pouring jug. Add a pinch of the Red dye chips to the jug at around 60-65c and stir in slowly until fully blended for about 2 minutes. Leave the rest of the wax on a medium heat in the Bain Marie or pouring jug as we will be using this later.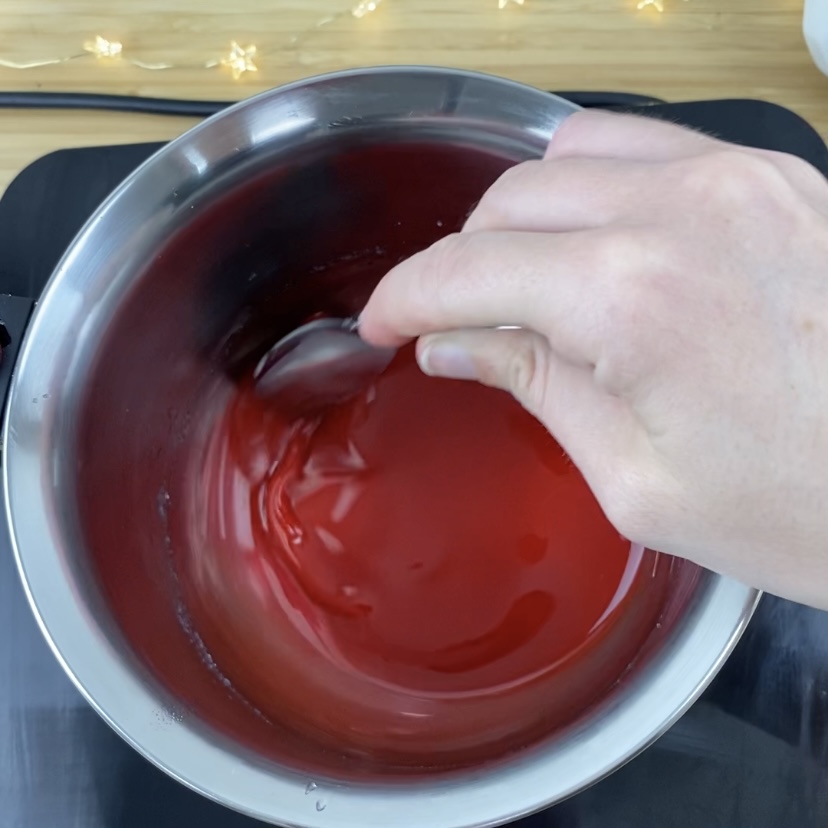 Step 5 – Swirling the wax
Use a spoon to scoop some red melted wax and place into the glass container. Rotate the glass slowly while allowing the wax to drop, causing a swirl effect on the inside of the glass. Keep doing this until you have your desired swirl.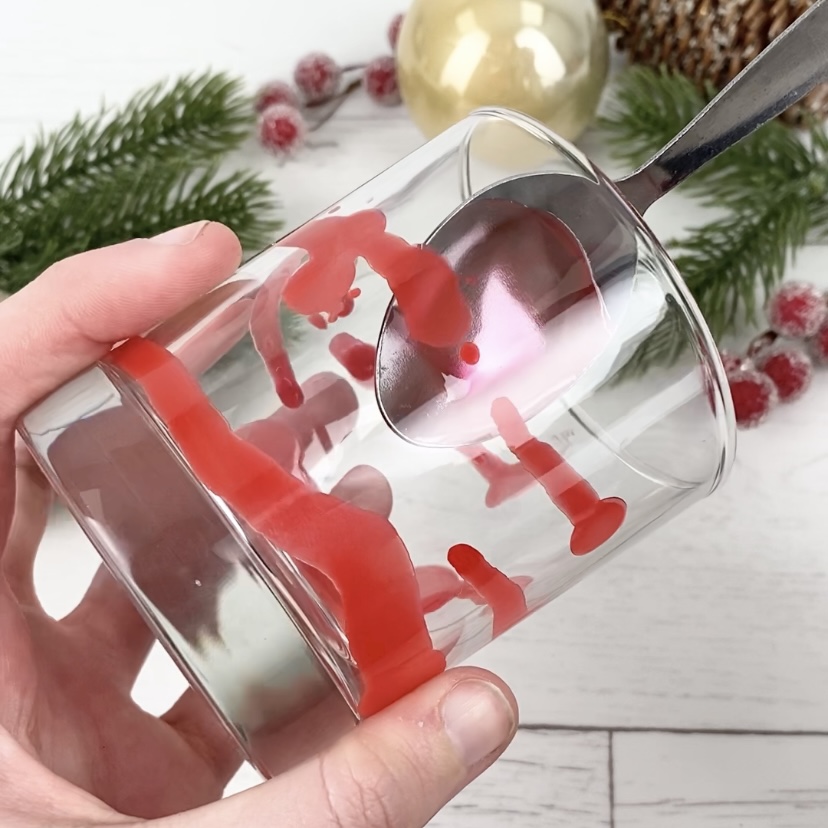 Step 3 – Prepare Your Container
Place a glue dot on the end of the wick by removing the glue dot tab and sticking. Next remove the other tab from the bottom and stick the wick down centrally into the container. Add a wick centring tool in position to keep the wick upright. Do this by placing the wick through the middle hole and sliding the wick across to secure.
Step 6 – Add dye to the main wax
Next add a pinch of cream dye to the main bulk of the melted wax at 60-65c and stir slowly until fully blended.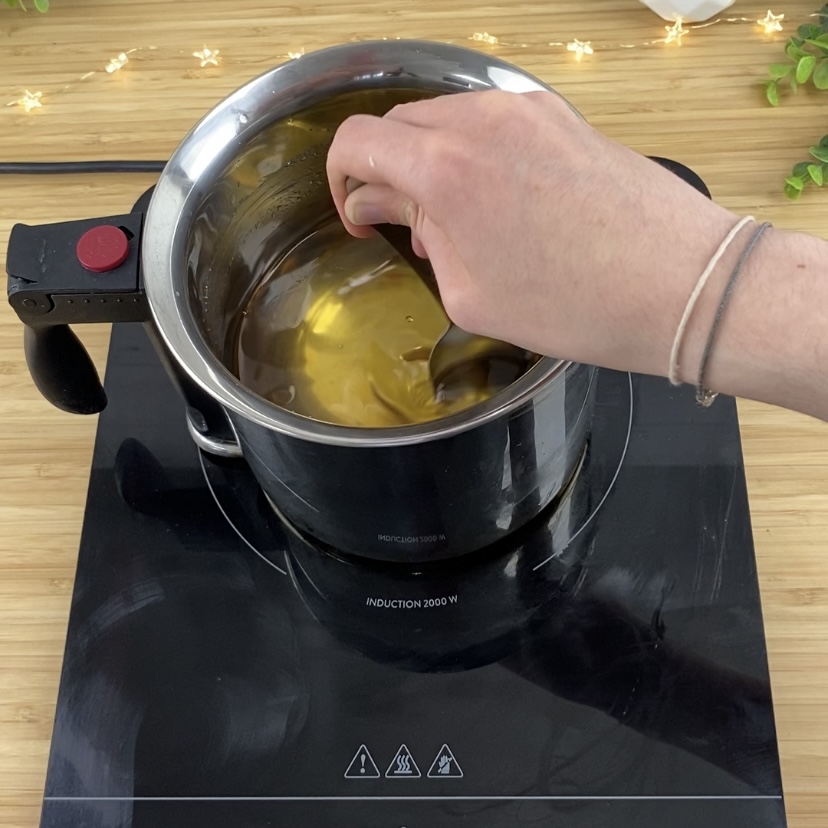 Step 7 – Add Fragrance oil
Now it's time to weigh the fragrance oil. We are creating candles with a 10% fragrance load which means 10% of the 160g wax. This is 16g of fragrance oil to weigh out. Next check your chosen fragrance oil flash point temperature. It is important to add the fragrance below its flash point to avoid the scent evaporating. We are using Candy Cane Swirl fragrance oil and the flash point is 93.3c. In this case we need to make sure the temperature is below 93.3c before adding the fragrance. Once the fragrance has been added, stir slowly for around 2 minutes to make sure it has fully blended.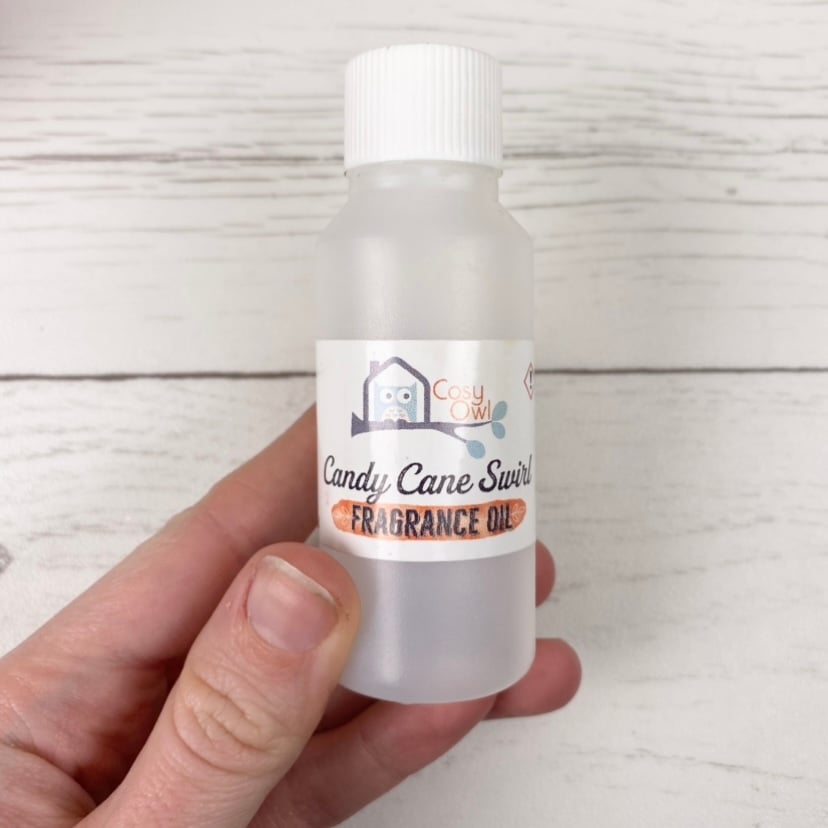 Step 8 – Pour the Remaining Wax and let it set
The red wax should now have hardened on your glass. With your cream wax at around 55°C, pour the cream wax into a jug and add to the glass container.
We suggest leaving the candles at room temperature, neither too warm nor too cold. Also try to avoid any sudden temperature changes, this way you'll make sure there won't be any frosting during cooling. Leave them to set for 24 hours without moving them.
TIP: These candles need to cool quite slowly, so don't be impatient or you could cause frosting or adhesion problems.
Step 9 – Use a heat gun to create a swirl effect
Now it's time to heat the wax slowly with a heat gun or a hair dryer. Do this carefully by heating the sides of the glass to merge the wax colours as it melts. Keep doing this until you are happy with the effect. After 24 hours, trim the wicks. Using a trimmer or scissors, cut the wick to around 5mm.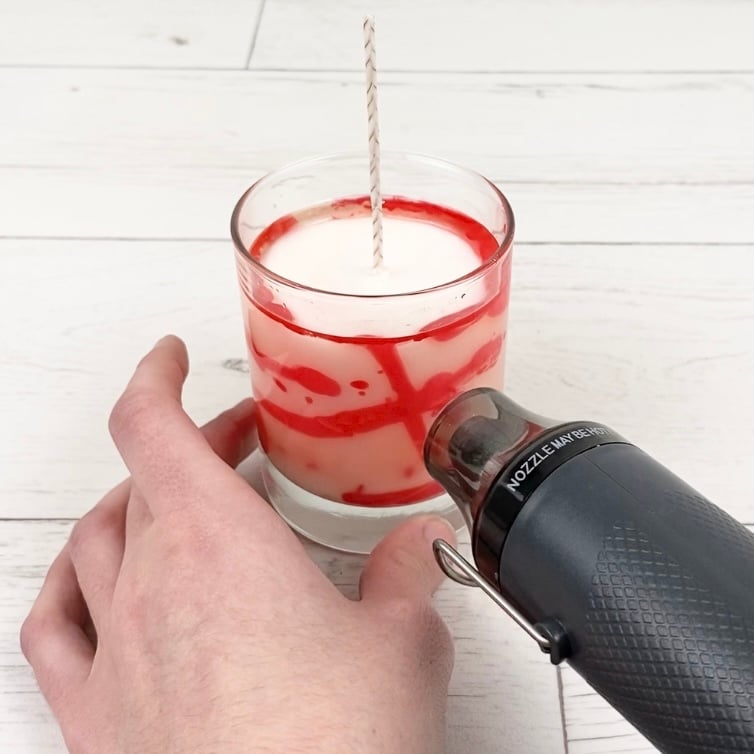 Step 11 – Light and Enjoy
Well done! Your gorgeous soy wax candles are now ready to be enjoyed for the festive season. Why not try adding different swirl colours together to get a marbled effect too.